Thanksgiving Weekend Sales May Be Down, but E-Commerce is on the Rise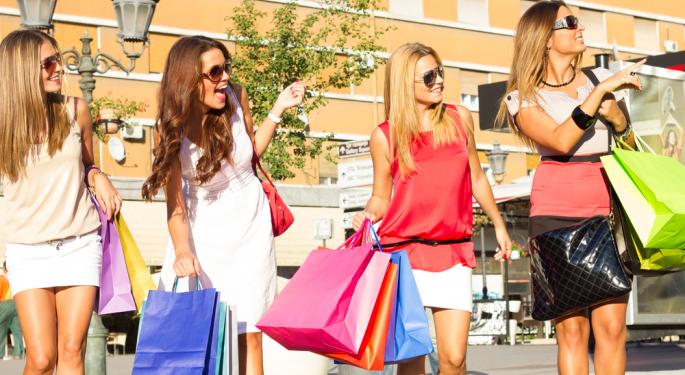 Sales on Black Friday, 2012 were down from years past. According to a survey conducted by ShopperTrak, sales totaled $11.2 billion on Black Friday, down 1.8 percent from last year.
This lower figure may be attributable to the fact that some stores kept their doors open on Thanksgiving Day, which some have dubbed "Gray Thursday." Another factor is the rise of e-commerce, which has taken a bite out of figures that originally only took into account the people willing to wake up early and physically go to retailers to make their purchases.
According to a National Retail Federation survey published yesterday, approximately 35 million shoppers hit stores and websites on Thanksgiving Day alone, up from 29 million last year. An NRF survey reported that traffic and spending both rose for the entire weekend, though since the report was published yesterday, the numbers for Sunday the 25th were only projections.
Other data from the NRF comes with an asterisk. The estimated number of people shopping over the four-day weekend could be as high as 247 million, up from 226 million last year. However, this number doesn't take into account the same shopper going to stores or websites multiple times over the same weekend. The estimated number of unique consumers shopping over the four-day weekend is significantly smaller, approximately 139.4 million.
The average dollar amount spent per shopper rose to $423 this year, up from $398 last year. Total spending was estimated at $59.1 billion between store sales and online sales. Shoppers hit stores even earlier this year, though; 28 percent of shoppers were at stores by midnight on Thanksgiving, compared with 24.4 percent last year.
According to the NRF survey, 27 percent of respondents shopped online on Thanksgiving Day, and 47.5 percent on Black Friday. The number of consumers shopping online this weekend was 43.8 percent of total shoppers, up from 35.2 percent last year.
The NRF's survey, conducted by BIGinsight on the 23rd and 24th, polled 4,005 consumers and has a margin of error of 1.6 percent.
Some of the numbers show signs of inaccuracy, however. Just last year, the NRF reported that retail sales in November had been bolstered by Black Friday offerings by as much as 4.5 percent, but a U.S. Commerce Department report concluded that retail sales for November had only risen about 0.2 percent.
Within the sometimes contradicting numbers one trend remains constant: e-commerce continues to rise with each passing year as ease of access and a plethora of online promotions draw in more shoppers. Ease of access is likely the reason why more consumers are enticed to step away from the family for a few moments and secure a purchase on the holiday itself rather than wait for Friday. E-commerce reportedly went up 17.4 percent for Thanksgiving Day, and 20.7 percent for the day after, compared with numbers from last year.
Posted-In: Black Friday Daily Mail National Retail Federation ThanksgivingNews Retail Sales Trading Ideas General Best of Benzinga
View Comments and Join the Discussion!