Shareholders of This Company Have Benefited from Hostess' Bankruptcy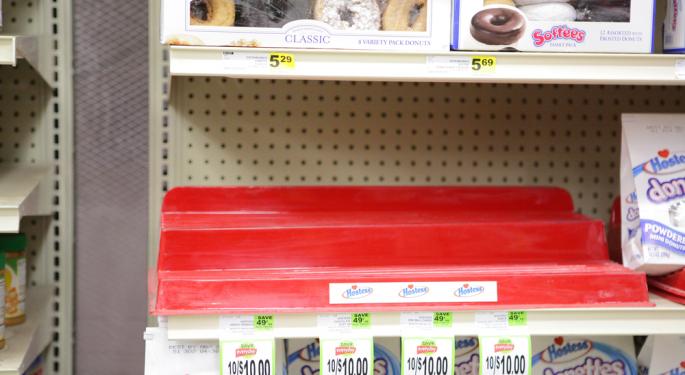 With mediation failing, it appears that Hostess' bankruptcy will proceed and lead to a Chapter 7 liquidation.
While it's unknown who will acquire the assets in bankruptcy, consumers can rest assured that soon fresh Twinkies will appear back on the store shelves. As the frantic stockpiling and eBay (NASDAQ: EBAY) auctions have demonstrated, the Twinkies brand retains some value, and it is highly likely that a company will look to acquire that asset in the liquidation.
That company could be Flowers Foods (NYSE: FLO), the only major publicly traded bakery.
Shares of Flowers Foods rallied over six percent early on Wednesday, perhaps in anticipation that the company would soon acquire Hostess' assets.
In fact, over the course of the last few weeks, Flowers Foods has enjoyed a fairly strong run, trading from around $19.50 in mid-November, to above $22 per share. The stock pulled back after the judge overseeing the situation attempted to prevent the bankruptcy through mediation, but have resumed their climb after that mediation failed.
Still, Flower Foods' acquisition of Hostess assets isn't assured. Possible antitrust concerns might prevent the sale to Flower Foods.
But if Flower Foods is able to acquire the assets, it could prove to be a boon for the company. With so much free advertising for Twinkies and Hostess products, they may see a surge in sales over the coming months.
Analysts at Deutsche Bank believe that acquiring Hostess' snack assets would be beneficial to Flower Foods, adding as much as $0.40 to earnings per year.
In addition, there are other benefits, like the loss of competition in other baked goods. Hostess' roughly 18,000 employees aren't simply engaged in the production of Twinkies; Hostess is involved in a number of other product lines including rolls and bread. With Hostess gone, Flower Foods is poised to benefit in those markets.
Still, while Hostess' bankruptcy looks assured, the precise outcome of the bankruptcy cannot be determined. Rather than Flower Foods, Hostess could be acquired by another private equity group. In that case, Flower Foods wouldn't see the benefits of sales from Hostess' snack line, and the company would soon see competition return in the other baked goods sector.
Shares of Flower Foods traded at $23.55 on Wednesday.
Posted-In: Hostess TwinkieNews Legal M&A Intraday Update Movers Trading Ideas Best of Benzinga
View Comments and Join the Discussion!