Greece Decision Delayed, Euro Suffers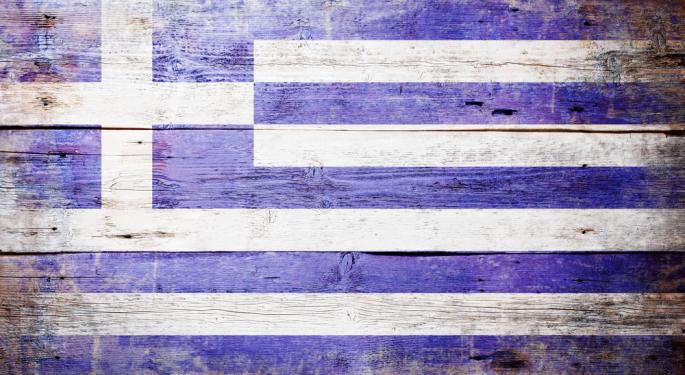 After more than 11 hours of deliberation, the International Monetary Fund and EU finance ministers were unable to reach an agreement about Greece's next installment of bailout money. The stalemate has weighed on the common currency as investors fear Athens could go bankrupt if the funds are not released.
On November 26th, the IMF and EU officials will meet again to continue talks about Greece's debt problem. The IMF and EU finance ministers are at odds about many key pieces of the new terms for Greece's bailout. One of the largest points of contention is whether or not to extend Greece's timeline for lowering its debt to GDP ratio.
While the finance ministers have already agreed to allow Greece two additional years to lower its debt ratio; IMF Director Christine Lagarde has opposed this notion, claiming the date should be kept the same in order to calm the markets.
The ministers are also unable to find a solution to Greece's financing needs that doesn't involve EU member countries putting up more cash. Countries like Germany whose tax dollars have kept the struggling country afloat are no longer willing to continue footing the bill.
While the Greece decision hangs in the balance, trouble in Spain is also pressuring the euro. The Spanish region of Catalonia heads into elections this weekend, the outcome of which could result in a Catalan breakaway movement.
The wealthy region, which includes Barcelona and accounts for a fifth of the Spanish economy, feels that too much of its tax money is being used to support poor areas of the country and wants more control over the income it generates.
Catalan President Artur Mas, who is expected to be reelected, recently converted to the independence movement and promised the region he would call a referendum on statehood within four years. According to Reuters , the majority of Catalan people are expected to vote for a leader who will seek independence.
An independence movement would have dire consequences on Spain and the eurozone. The Spanish government has strongly opposed Catalonian succession, and Mariano Rajoy has cautioned the people of Catalonia against seeking independent statehood. The outcome of the vote, which takes place on Sunday, could put Spain in a very delicate position.
Posted-In: Artur MasNews Commodities Forex Global Markets Best of Benzinga
View Comments and Join the Discussion!