Goldman's Jim O'Neill Sees Prolonged Yen Weakness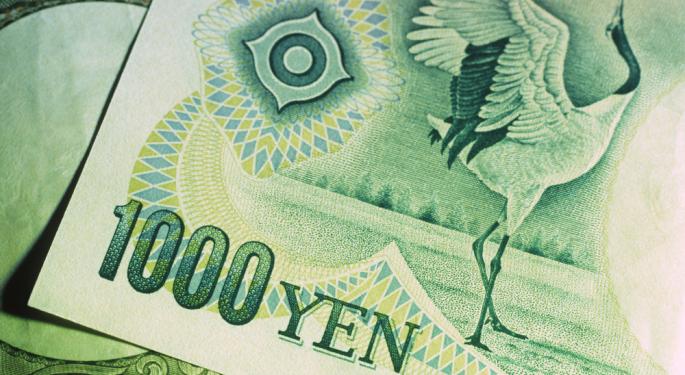 Jim O'Neill, the renowned Chairman of Goldman Sachs Asset Management with a great investing track record, is now long-term bearish of the Yen. Following recent comments from the expected Prime Minister-to-be Shinzo Abe and weakening economic data such as the current account, O'Neill now sees a long-term bear market for the Japanese currency and investors should take note.
In his Viewpoint column published each Sunday, O'Neill said "I was quite chuffed with myself for understanding the yen and it was based on pretty simple stuff, Japan's persistent and strong balance of payments, especially its trade and current account surplus, and its associated rising equilibrium exchange rate." However, with the current account surplus turning to a deficit and new calls for extraordinary monetary policy, O'Neill is now bearish.
In 1985, following the Plaza Accord, O'Neill became bullish of the yen relative to the U.S. dollar, and he was spot on. He only turned bullish once in the period between 1985 and today, that being in the mid-90's, before switching his stance back to a bullish one. He has generally been correct on the pair over this large time horizon and a track record like his is one to admire. Thus, investors should heed the proverbial call when O'Neill changes his view.
On candidate Abe's political stance for unlimited asset purchases and a tripling of the inflation target to 3 percent, O'Neill wrote that, "This is the sort of thing that many were advising Japan from overseas in the mid-to-late 90's when so many people mistakenly lost lots of money betting against the yen. Go get all those guys out of retirement as the time has probably come."
The combination of weakening economic data, deteriorating relations with China (which will hurt trade), and the increased likelihood of further central bank stimulus has seen the yen and Japanese stocks rally sharply over the past few trading sessions. The yen rallied from 79.50 last Monday to as high as 81.52 last week before retreating to the current 81.20. Further, Japanese stocks, as measured by the Nikkei Index, rallied nearly 4 percent over the same period on hopes of further stimulus.
O'Neill does warn that this story will play out over a long period of time, not instantly. He sees the yen "waffling" around for a few months before another leg higher is taken, seeing as the recent spike was so large. However, for those investors with a long timeline, this could be the perfect time to take a bearish bet on the yen and see the greenback return to prominence.
Posted-In: News Short Ideas Forex Events Global Economics Hot Pre-Market Outlook Best of Benzinga
View Comments and Join the Discussion!