Euro Recovery Not Likely To Last As Protests Highlight Worsening Economic Conditions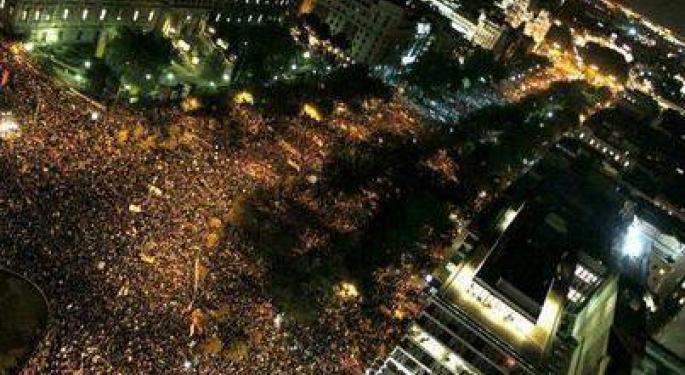 The euro made a minor comeback on Thursday morning, trading at 1.2754. The lift can be credited to comments from eurozone officials suggesting that the Greek bailout money may be released soon.
German newspapers reported the country's finance ministers were considering paying the Greek aid installments in one large lump sum, suggesting that Germany will agree to release funds before Greece falls into complete bankruptcy. Since Germany has been very vocal about its opposition to delivering aid without reform, many were worried they would not agree to release the money.
yReuters also reported that Monetary Affairs Commissioner Olli Rehn told the media that Spain is effectively addressing its budget deficits in 2012 and 2013. Though it has fallen short addressing concerns about the 2014 budget, the comments lent support to the euro.
Spain's financial issues have weighed on the euro this year, and although many are expecting the country to eventually ask for a full sovereign bailout, there has been no indication that a request for aid will come any time soon.
Temporary relief for the euro is likely to be short lived, as social unrest across the entire southern part of the eurozone interrupted business and transportation on Wednesday. Joint protests in Spain, Portugal, Italy and Greece highlighted the widespread unpopularity of the austerity measures being taken in these struggling economies.
The spending cuts, regarded by Germany as necessary measures to fix a financial system riddled with debt, have caused social unrest and political instability in all of the countries they are carried out in.
Germany, whose economy has been a powerhouse among the rest of the struggling eurozone countries, is beginning to feel the effects of the crisis as its economy shrank in the third quarter and will likely decrease again in the fourth quarter.
Figures from the EU statistics office due out today are expected to show lackluster results from the region's top economies. This coupled with statements from the European Commission suggesting the eurozone economy will shrink even further in 2013 are likely to put pressure on the euro and mitigate its recent gains.
Posted-In: News Commodities Forex Global Markets Best of Benzinga
View Comments and Join the Discussion!