Euro Down as Eurozone Problems Worsen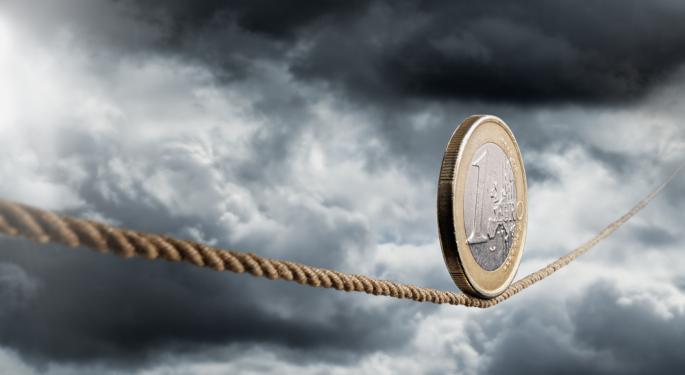 The euro continued a downward slide on Friday morning, dropping to 1.2739.
Eurozone finance officials have delayed the decision about the next installment of Greece's bailout money for a few more weeks. Businessweek reported that that the European Union Ministers decided to hold off on the decision and wait for a full report about the country's finances and its compliance with the terms of its bailout. Without clear resolution for Greece in sight, the euro has become quite uncertain and is being sold off as a result.
The European Central Bank met on Thursday to discuss interest rates among other things. The current 0.75 interest rate was maintained, though many are expecting a rate cut heading into 2013.
Spain has also cast doubt on the currency as it still has yet to make a move toward asking for a bailout. ECB President Mario Draghi announced that the bank would buy unlimited bonds from struggling economies, and many have expected Spain to take advantage of the plan. However, there has been no progress toward the program's implementation, and its positive effects on the market are starting to wear off.
Germany, Europe's powerhouse economy may also be starting to feel the crunch of the eurozone crisis. Thus far, the country has pushed through the financial turmoil relatively unscathed. However, Reuters reported that data showed German exports have reduced at their fastest pace in a year.
Weakness in Germany shows that the cracks in the eurozone finance system have spread throughout the entire region. If massive economies like Germany become too weak or decide they cannot manage to support the struggling nations like Greece, many fear a eurozone break up is in the future.
Posted-In: BusinessWeek Mario DraghiNews Commodities Forex Global Markets Best of Benzinga
View Comments and Join the Discussion!