Chinese Manufacturing Rebounds in October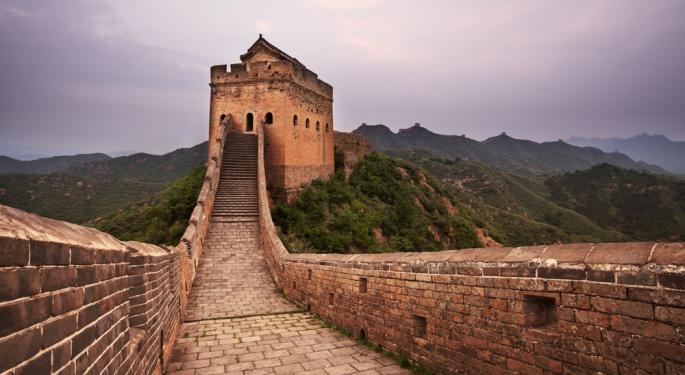 New data released overnight suggests that China's manufacturing sector may have bottomed over the last few months. Both the official Manufacturing PMI and the privately surveyed HSBC Markit China PMI showed a rebound in China's largest economic sector, boding well for China domestically and for the global economy as a whole.
The official Chinese Manufacturing PMI released by the government showed that the manufacturing sector expanded in October. The survey of the largest Chinese manufacturers showed that China's manufacturing sector expanded for the first time in three months in October, as the PMI rose to 50.2 from 49.8 in September. The PMI came in lower than expected (economists were looking for 50.3), but the fact that the manufacturing sector expanded was enough to send Chinese shares higher by over 1.5 percent overnight.
Also, the private HSBC Markit China PMI showed a rebound in the manufacturing sector. The survey rose to 49.5 from 49.1 in September and beat expectations of a flat reading at 49.1. This survey, which contains a greater number of Chinese manufacturers that tend to be smaller than the ones surveyed by the government, showed continued contraction in the sector, albeit at a much slower pace.
China's economy has been slowing as its two largest trading partners' economies have stagnated. The Eurozone, China's largest trading partner, has been stuck in a recession for most of 2012 following sharp austerity measures aimed at reducing debt loads. Meanwhile, the U.S. economy has shown signs of slowing, weighing on Chinese manufacturing, as many of the manufactured goods are in turn exported to the U.S.
In New York, material stocks rallied at the open on the positive news. The Materials Select Sector SPDR (NYSE: XLB) rose 0.78 percent just after the open as higher growth and output in China may lead to higher demand for raw materials -- China is a large importer of these materials. Shares of Freeport-McMoRan (NYSE: FCX) rallied strongly on the news, rallying 1.8 percent.
Overall, the data suggests that China has (or is in the process of) bottoming and could see a rebound in growth through the end of 2012 and into 2013. Fiscal measures in the U.S. contained in the fiscal cliff could hurt Chinese exports, but rumors of a Chinese fiscal stimulus in 2013 still abound and could lead to a further pop in the economy. Historically, China has launched stimuli during the fall months, however, economists believe that, due to the regime change set to take place at the end of the year, authorities will wait until the change of power has concluded.
Posted-In: News Commodities Forex Global Econ #s Economics Hot Intraday Update Best of Benzinga
View Comments and Join the Discussion!