Rumor: Microsoft Still Interested in Acquiring Netflix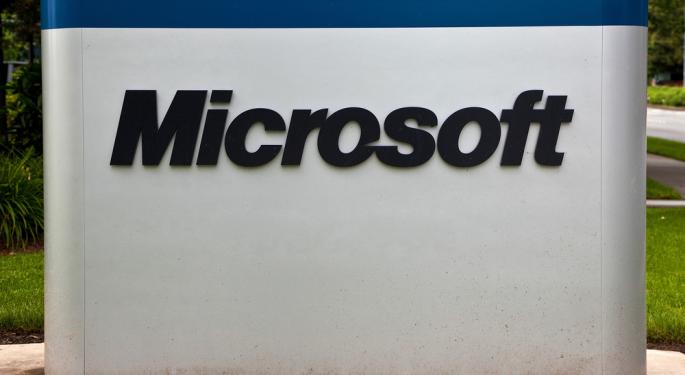 Now that Microsoft (NASDAQ: MSFT) has delivered its biggest product launch since Windows 95, the company is rumored to be exploring a merger with Netflix (NASDAQ: NFLX).
This is not the first time that the two firms were expected to get together. Over the past 12 months, Microsoft, Apple (NASDAQ: AAPL), Google (NASDAQ: GOOG) and a number of other companies have been tied to a possible merger with Netflix. For the time being, the DVD rental and streaming video company remains an independent entity.
Earlier this week, Benzinga explained why Hulu would be smart to acquire Netflix while it has the chance.
Netflix would have been all but impossible to acquire during the early months of 2011. At that time, Netflix's future appeared to be set in stone; it was the new Blockbuster Video, and no one would be able to touch it for the next 10 years. The company continued to grow steadily and its shares traded above $300.
That changed after Verizon (NYSE: VZ), Comcast (NASDAQ: CMCSA), Barnes & Noble (NYSE: BKS), Toys 'R' Us and other corporations announced that they planned to enter the streaming video business.
At the same time, Amazon (NASDAQ: AMZN) continued to sign new agreements to bring fresh content to its video service, Amazon Prime. Hulu did the same, creating a host of new problems for Netflix. In the beginning, Netflix's primary objectives were to convince content providers to license their videos and use that content to persuade consumers to subscribe. Now the company must fight to prevent competitors from stealing both content and subscribers. Netflix is also struggling with the fact that some networks (such as Starz) are no longer interested in licensing their content.
As if that weren't enough, Netflix is currently at odds with its own business model. CEO Reed Hastings is not a huge fan of DVDs. He prefers streaming video, which is why he fought to separate the firm's businesses in 2011. The venture failed -- but not before the stock tumbled.
Last winter it was revealed that Netflix's profit margins are much higher for DVD rentals than they were for streaming video. This is a problem for the company since DVD rentals are expected to drop by as much as 50 percent over the next five years.
Meanwhile, Netflix's streaming video business is not expected to improve. The company could continue to acquire new customers, but it spends a small fortune every time it secures new content. There is no way around this as the content providers can afford to charge what they want because they hold all the cards. Consumers have a variety of choices now, so they do not have to stick with Netflix. Thus, the company needs new content not only to lure new subscribers but to satisfy those it has already acquired.
Netflix is not yet at the point where it needs to find a buyer. But if an interested party were to step forward and make an impressive offer right now, it is hard to imagine that the company would turn it down.
Follow me @LouisBedigianBZ
Posted-In: Microsoft Netflix Reed HastingsNews Rumors Management M&A Tech Best of Benzinga
View Comments and Join the Discussion!