Windows 8 Draws Massive Crowds in Times Square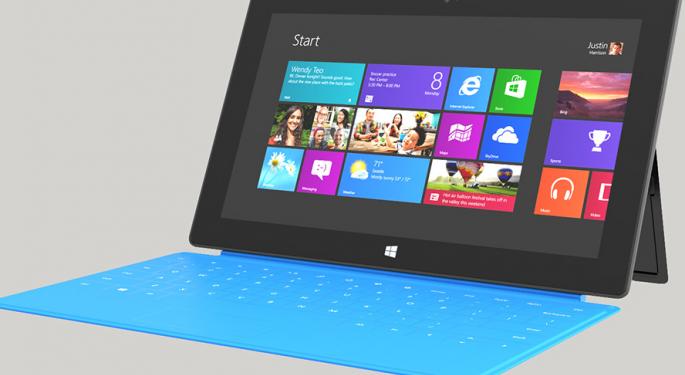 The wait is finally over. At 12:01 a.m., Microsoft (NASDAQ: MSFT) released Windows 8, the company's most anticipated operating system in more than 15 years.
Thousands of consumers lined up to get a copy of the new OS (and/or entirely new hardware) at hundreds of stores across the country. But few crowds could compare to the sheer size and excitement of the Microsoft Store in Times Square.
Touted as the best version of Windows ever released, the new OS is receiving a plethora of praise from pundits and skeptics alike. Surface, Microsoft's first tablet, launched alongside Windows 8, providing consumers with the perfect excuse to head to the nearest retailer.
When Xbox 360 launched in 2005, it was mostly promoted through traditional retail outlets. From Best Buy (NYSE: BBY) and Target (NYSE: TGT) to Wal-Mart (NYSE: WMT) and GameStop (NYSE: GME), there was no shortage of places for consumers to buy the next evolution in console gaming. Even ill-fated retailers like Blockbuster Video could not wait to start selling the machine.
For the Windows 8 launch, numerous big box retailers gave consumers the chance to get the new OS at midnight. But it was Microsoft's own retail outlets that stole the show, as evidenced by the Times Square launch.
While the first Microsoft Stores opened quite a while ago, the company has been moving quickly to open new locations all over the country. In July 2011, the Windows maker announced that it would open an additional 75 outlets over the next two to three years.
Consumers may only be a few hours into their Windows 8 and Surface test drive, but numerous reporters have already published their full reviews of the new tablet.
"The build quality throughout Surface RT is sturdy and confident, and exudes the same kind of austere precision we find in German performance cars," PCWorld wrote in its review of Surface. "VaporMg is silky to the touch, yet inflexible when torqued. And at 0.37 inch thick and 1.5 pounds, Surface RT is essentially identical to the iPad in thickness and weight—this despite the fact that it supports a slightly larger, 10.6-inch, widescreen display."
"The Surface is instantly more charming than any Windows device that's come before it," Gizmodo proclaimed. "It's nearly the perfect size, and the form is almost beyond reproach. If you want a tablet, use it like a tablet. If you want a laptop, use it like a laptop."
Engadget appreciated the functionality and connectivity that Surface offers, writing, "It really is lovely to plug in a USB drive and start dragging and dropping files. Or, feel free to connect that comfortable keyboard you've been using for a decade, or that old tank of an HP LaserJet that's still doing the business after all these years."
Once again, Twitter is filled with an endless stream of tweets regarding Windows 8. Ad agency exec Clayton Hove gave one of the best: "Thanks to Microsoft, millions of schoolchildren now have the very plausible excuse of 'Windows 8 my homework.'"
Follow me @LouisBedigianBZ
Posted-In: Microsoft Surface Windows 8News Success Stories Tech Best of Benzinga
View Comments and Join the Discussion!