Will Sprint iPad Get Unlimited Data?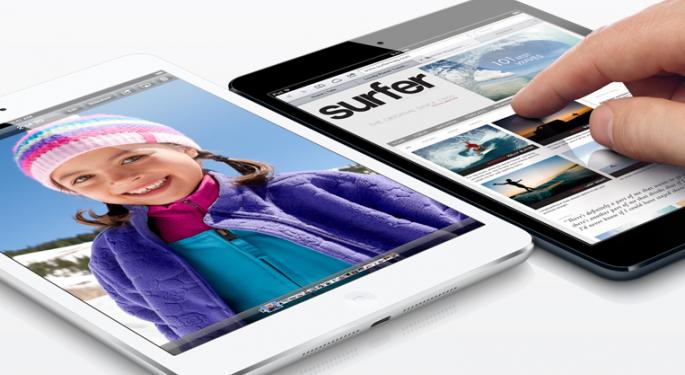 Now that Sprint (NYSE: S) is getting the iPad, all eyes are on the company's unlimited data plans. Will they carry over to Apple's (NASDAQ: AAPL) new tablets or will consumers be forced to buy chunks of data, a la Verizon (NYSE: VZ) and AT&T (NYSE: T)?
Sprint announced that its unlimited plans will not apply to the iPad Mini, the fourth-generation iPad or any other tablet available through the carrier.
While the company has repeatedly stated that it intends to stand behind its unlimited data plans for iPhones and other smartphones, Sprint did not explain why it chose to employ a new strategy for tablets.
Existing Sprint smartphone customers can buy 100MB of data for $10 per month or 1GB for $15 per month. Everyone else will pay monthly fees of $14.99 (for 300MB), $34.99 (for 3GB), $49.99 (for 6GB) or $79.99 (for 12GB).
Surprisingly, these options are not much cheaper than the plans offered by Verizon and AT&T. Verizon customers who use a small amount of data (1GB or less) will be charged $20 per month. From that point on, customers are essentially charged $10 for every additional gigabyte of data. They can also pay $50 for 5GB or $80 for 10GB.
AT&T customers are charged $14.99 (for 250MB), $30 (for 3GB) or $50 (for 5GB). The company does not currently offer any larger data plans, but customers will be charged an additional $10 for every additional gigabyte they use.
Apple has not announced a specific release date for the cellular version of the iPad Mini or the fourth-generation iPad. On its website, the company simply states that it will be available in mid-November. Sprint might have provided consumers with a clue, as its new data plans are scheduled to begin on Sunday, November 11 -- nine days after the Wi-Fi iPads are scheduled to arrive in stores.
Follow me @LouisBedigianBZ
Posted-In: iPad 4 iPad Mini SprintNews Tech Best of Benzinga
View Comments and Join the Discussion!