Bumi Breakup Highlights Coal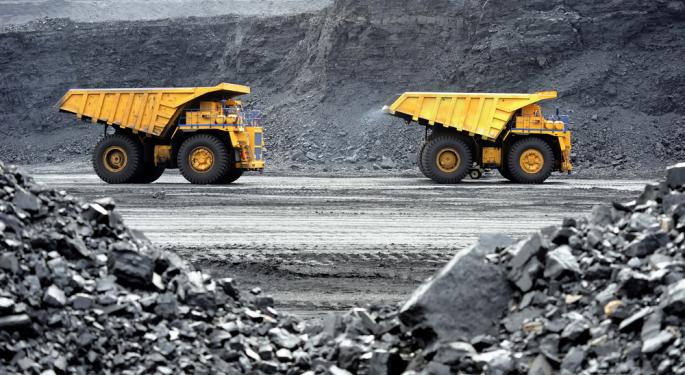 Bumi plc (OTC: VLLRF), the London-listed company that owns 29.2 percent of Indonesia's largest coal mining company, Bumi Resources (OTC: PBMRF), is trading more than 40 percent higher on news of an offer to buy out the troubled company's interest in coal mines in Indonesia.
Indonesia is a major exporter of thermal coal and metallurgical coal to China, India and Japan. Even Newark, New Jersey-based Public Service Enterprise Group Inc. (NYSE: PEG) mixes low-sulfur Indonesian coal with high-sulfur U.S. coal to reduce pollution at its coal-fired power plants in the densely populated New York City metropolitan area.
Bumi plc was formed in 2010 by financier Nat Rothschild and the Bakrie family, which runs a powerful Indonesian conglomerate including Bumi Resources. Rothschild created Bumi plc in partnership with the Bakries in an effort "to create an international coal-mining powerhouse with operations in Indonesian Borneo, and one of the biggest listed companies on the London exchange," Reuters reported.
Arguments between Rothschild and the Bakries soured Bumi plc almost from the start. Bumi plc started trading on the London Stock Exchange at 1000 pence ($16.05) but hit a low of 120 pence ($1.93) earlier this year. A letter from Rothschild calling for a "radical clean-up" of the management of Bumi Resources, the "crown jewel" of the Bakrie empire resulted in his ouster as co-chairman last November.
A London-based law firm is looking into financial irregularities at Bumi Resources which, according to Reuters, could total as much as $500 million. "While we are not able to quantify the amounts involved in these irregularities, we believe this investigation may reinforce the idea that the company needs to address its complex corporate structure,' analysts at JP Morgan, the bank that fostered the creation of Bumi, said in a note last month," Reuters said.
By separating itself from Bumi plc, Bumi Resources would no longer be subject to the rules and regulations of the United Kingdom and the London Stock Exchange. This would leave the Bakries firmly in control of Bumi Resources and able to operate under the more amorphous regulations of Indonesia.
Under the proposed split, the Bakrie family would cancel their indirectly owned 23.8 percent stake in Bumi plc. In return, they would get 10.3 percent of the 29.2 percent of Bumi Resources held by Bumi plc. The Bakries would then purchase the remaining 18.9 percent of Bumi Resources from Bumi plc for cash before December 25, 2012. The total value of the transaction is thought to be around $1.1 billion. The Bakries are expected to fund the cash portion of the deal through bank borrowing. In addition, the Bakries have offered to purchase Bumi plc's 84.7 percent stake in PT Berau Coal Energy (OTC: BCUYF), another Indonesian coal mine, within the next six months.
The board of Bumi plc is meeting in Singapore Friday to consider the proposal.
If Bumi plc does accept the offer to acquire its assets, it will have a lot of cash but no coal. It remains to be seen if Nat Rothschild still believes in the future of coal in general and Indonesian coal in particular. If so, Rothschild could be on the prowl for another coal mine, which could be positive for the sector, which has been rocked by weaker coal prices.
Coal shares in the US are sharply higher today on a confluence of stories about rising natural gas prices in the U.S. and the potential for having a coal-friendly Mitt Romney in the White House. Peabody Energy (NYSE: BTU), Arch Coal (NYSE: ACI), CONSOL Energy (NYSE: CNX), and Yanzhou Coal Mining (NYSE: YZC) are all trading sharply higher this morning.
The idea that Nat Rothschild might resume his hunt for coal assets is also good news for coal shares.
Posted-In: Bumi Resources JP Morgan Nat RothschildNews Commodities M&A Global Markets Best of Benzinga
View Comments and Join the Discussion!