Nintendo's Wii U Could be Sold Through Cable Providers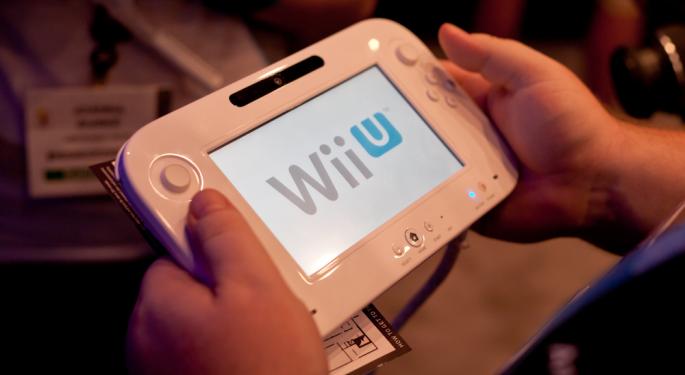 Nintendo of America (OTC: NTDOY) President Reggie Fils-Aime has hinted at the possibility of a partnership with Comcast (NASDAQ: CMCSA) and other cable companies that would allow them to sell the Wii U.
In an interview with the Seattle Times, Fils-Aime was asked if Nintendo would sell its new console through Comcast or other TV partners.
"It's certainly possible," said Fils-Aime, opening the door for the device to be sold at a reduced rate or given away for free to those who sign up for cable.
This strategy, where a service provider subsidizes the cost of a device by requiring buyers to sign a multi-year contract, has been hugely successful for Apple (NASDAQ: AAPL) and Samsung. It has been widely speculated that Apple will attempt to do the same with its television set, which is expected to carry a hefty price tag.
During the interview, Fils-Aime spoke about the potential benefits of studying the TV viewing habits of consumers.
"Certainly the way the system works, it gives us access to a lot of information, as long as the consumer agrees to share it with us," said Fils-Aime. "How we utilize that, we'll find out as we go.
"Again, we're not in the ad-serving business. We're not in the micro-targeting business. But certainly I can imagine as we build out the service that's something that Comcast or AT&T or any of the cable companies are really going to be interested in, potentially."
When asked if that gives Nintendo leverage in negotiating with cable companies, Fils-Aime replied succinctly. "Sure," he said.
Fils-Aime was also asked why Nintendo did not buy TiVo (NASDAQ: TIVO) and "go the whole DVR route."
"That's not what we do," he replied.
The Real Cost of a Free Console
Comcast is unlikely to sell a game console unless it views it as an enticing device that will bring in more customers. But if it decides to start offering game consoles as an incentive to subscribe, consumers might be less troubled by the $100 monthly bill.
Wii U might not be the console to pull this off. At a maximum price of $349, the device is only $50 more than the price of Sony's (NYSE: SNE) PSone (released in 1995) and PlayStation 2 (released in 2000). After 17 years, $50 is not much inflation.
However, the price of the Wii U's competitors is likely to be much higher. When the Xbox 360 came out, Microsoft (NASDAQ: MSFT) offered two packages -- one for $299 and another for $399. PlayStation 3, which also came in two packages, debuted at $499 and $599. Despite the high price, both Sony and Microsoft argued that they lost money selling the new hardware.
Hardware prices are likely to continue rising. As it stands, Wii U is $50 to $100 more expensive than the original Wii, depending on which models consumers choose.
Without subsidies, console manufacturers are forced to sell new hardware as cheaply as possible. They may push boundaries, but the prices will always be kept in check. Otherwise they will not sell.
If subsidies become an option, console manufacturers will no longer be forced to keep the prices in check. They will be free to follow in the footsteps of smartphone manufacturers, knowing that if consumers want a cheap option, they can sign a two-year contract with Time Warner Cable (NYSE: TWC).
This would be a disaster. It may benefit the guy who wanted cable and a new console and planned to pay for both anyway. He might save some money on the deal. Everyone else will be screwed as console prices inflate and monthly cable fees rise.
Follow me @LouisBedigianBZ
Posted-In: Nintendo Reggie Fils-Aime Seattle TimesNews Management Tech Best of Benzinga
View Comments and Join the Discussion!