Japan Continues to Claim Diaoyu Islands, Straining Relationship with China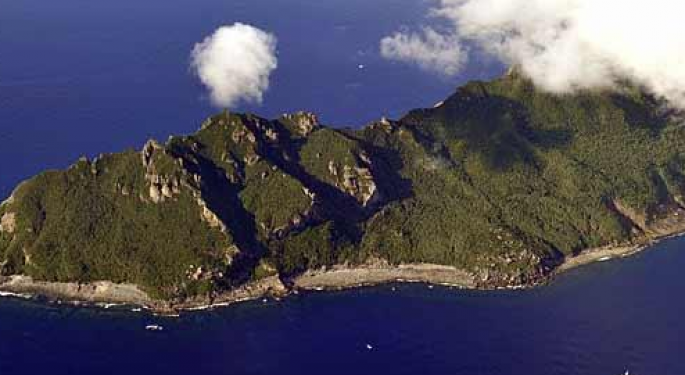 Addressing the United Nations General Assembly yesterday, Japanese Prime Minister Yoshihiko Noda refused to compromise on Japan's claim to the disputed Senkaku/Diaoyu Island group. The islands "are an inherent part of our territory in light of history and also under international law," Noda said. "There can't be any compromise that would step back from this basic position."
China has refuted the Japanese claim, saying that the islands are a part of China. Taiwan, which also claims the islands, sent coast guard cutters into disputed waters where they engaged in a short water fight with Japanese warships using water cannons. China, which considers Taiwan to be a part of its territory, went so far as to support the Taiwanese in their dispute with Japan.
The foreign ministers of Japan and China met privately at the United Nations headquarters in New York yesterday and vice ministers from both countries met in Beijing this morning but there was no move toward resolving the dispute.
The sudden escalation of the territorial disagreement came after the Japanese government purchased the islands from the private Japanese family that had owned them for more than a century. China objected to the purchase, which unambiguously transferred ownership to the Japanese government. This comes at a bad time politically for both countries as China is in the midst of a changing of the leadership of the Communist Party at a time when its economy is slowing dramatically. For Japan, a Lower House election must be called before the end of August 2013 and the two major parties are squaring off ahead of the election. The major loss of face that would result from backing down on the islands issue would likely doom the current government at the polls.
Politics aside, the dispute is having a real impact on trade between the two countries. Although anti-Japanese demonstrations have died down to a large extent, Japanese goods being imported to China have been subject to strict customs inspections, which have slowed the clearance of Japanese goods coming into China to a crawl. Japanese car dealerships have been vandalized and Chinese who own Japanese-brand cars have been enticed to trade them in for less conspicuous Chinese, US and European brands.
Japanese auto makers, including Toyota Motor (NYSE: TM), Nissan Motor (Nasdaq: NSANY) and Honda Motor (NYSE: HMC) have cut production of passenger cars in China because of declining demand and the difficulty of getting parts imported from Japan through Chinese customs. Asahi Shinbun, a major Japanese daily newspaper, reported yesterday that Toyota has stopped exporting all Lexus models to China and says it will not manufacture any cars in China during the month of October. Toyota built 78,000 cars at its Chinese factories in October 2011.
Although Japanese auto makers operating in China are among the most visible, other Japanese companies with large Chinese manufacturing and retail operations are also feeling the heat from the prolonged tiff over the disputed islands.
Posted-In: News Global Economics Markets Best of Benzinga
View Comments and Join the Discussion!