Will Nook HD Succumb to Amazon's Supremacy?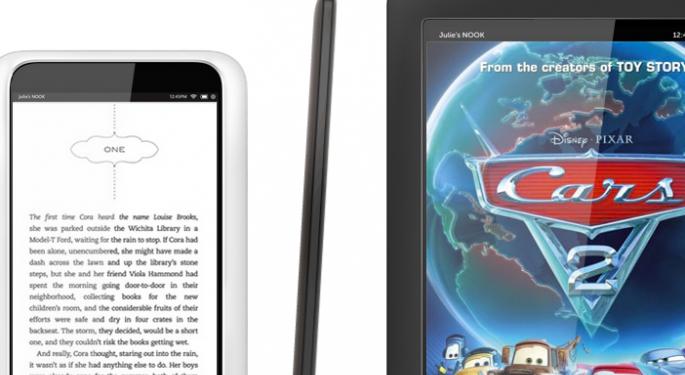 After letting Amazon (NASDAQ: AMZN) dominate the tablet spotlight earlier this month, Barnes & Noble's (NYSE: BKS) jumped onto the stage this morning to announce two new tablets: the seven-inch Nook HD and nine-inch Nook HD+.
Both are designed -- and priced -- to undercut competing products from Amazon, Apple (NASDAQ: AAPL), Google (NASDAQ: GOOG), Microsoft (NASDAQ: MSFT), and other tablet manufacturers. Will these advantages lead Barnes & Noble to victory? Or is it too little, too late for the bookseller?
In many ways, the Nook HD and Nook HD+ are promising devices. The lighter weight, high-def displays, and user profile features are not to be overlooked. That said, Barnes & Noble has a tough road ahead. While its latest offering far surpasses the weak lineup of devices it released in 2011, the company is still likely to struggle this holiday season.
Aside from the iPad, which has sold more than 80 million units worldwide (first-, second-, and third-generation models included), and the Kindle Fire, which currently holds 22 percent of the domestic tablet market, Barnes & Noble must deal with consumers that may not be interested in what it has to offer.
On Google.com, a search for "Nook" yields 92 million results; a search for "Kindle" yields 10 times as many. When searching "Nook Tablet," users will see 58 million results. "Nook HD" yields 32 million results. "Kindle Fire" and "Kindle Fire HD," however, yield more than 600 million results each.
There is a good reason why Amazon owns the e-book market. While other retailers held onto the belief that digital content was a fad, Amazon -- which sells all of its merchandise online -- invested millions into its digital future. At the same time, Amazon fought hard to promote its digital initiative while lowering the price of its e-books. After years of promotions, readers were finally convinced to go digital.
Amazon's e-book initiative benefits greatly from the overall experience of shopping with the retailer. Consumers are rarely forced to leave Amazon empty-handed. However, there is always the chance that popular items -- books or anything else -- may be sold out at a brick-and-mortar competitor. Now the consumer has wasted time and gas, when he or she could have stayed home and placed a quick order with Amazon.com.
It is that level of convenience and efficiency that frightens retailers. It is also why Barnes & Noble decided to start promoting its tablets more heavily.
But all the promotion in the world cannot transform a company overnight. While Amazon is a growing brand, Barnes & Noble is a struggling bookseller that is doing everything it can to survive.
There is something to be said for companies that are in survival mode, however. When Apple was struggling, the company invented the iPod.
Follow me @LouisBedigianBZ
Posted-In: Amazon Apple Barnes & Noble iPad ipod Kindle FireNews Tech Best of Benzinga
View Comments and Join the Discussion!