Soybean Prices Lower as US Yields Better, China Demand in Doubt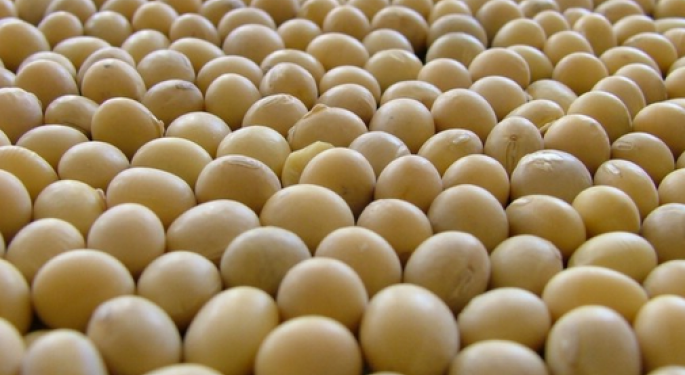 The slowdown in the Chinese economy could have a big impact down on the farm. China is the biggest export market for U.S. soybeans, importing 20.6 million metric tons worth nearly $10.5 billion in 2011. Soybean growers and soybean oil processors have expressed concern that a weaker Chinese economy could mean less demand for U.S. soybeans and lower soybean prices.
"China is the largest consumer and importer of soybeans, accounting for 28% of world consumption and 64% of world trade in the 2011-2012 marketing year," University of Illinois Agricultural Economist Darrel Good told Corn & Soybean Digest this week.
In addition to questions about Chinese demand, early indications are that soybean yields in the U.S. for the 2012 crop are somewhat better than expected, despite this summer's drought. The USDA will issue new soybean crop estimates on October 11 and many analysts are expecting that estimates will be revised up.
While the harvest is in progress in the U.S., it is soybean planting time in the southern hemisphere. Brazil, which is expected to surpass the U.S. and become the world's largest soybean producer during the 2012-2013 crop year, is experiencing favorable weather and that has encouraged farmers there to expand soybean planting even to marginal land. Even if a large soybean harvest is realized, market research company Oil World wonders if there is sufficient transportation and storage infrastructure in Brazil to handle such a large crop.
This summer's drought in the U.S. has increased uncertainty over food prices as corn, soybean and wheat yields have been affected. However, according to a Bloomberg interview with Cargill Chairman and CEO Greg Page, the global grain trade has been expanding to cover shortfalls due to the drought.
As long as grain prices remain well above the cost of production, farmers will be encouraged to plant more crops. This is already happening in major grain producing countries in the southern hemisphere and higher prices are likely to encourage aggressive planting in the U.S. next spring.
Although Cargill is closely held, investors can participate in the global grain trade through Archer Daniels Midland (NYSE: ADM) and Bunge (NYSE: BG). Other agriculture palys include Monsanto (NYSE: MON) and John Deere & Co. (NYSE: DE).
Posted-In: News Commodities Global Economics Markets Trading Ideas Best of Benzinga
View Comments and Join the Discussion!