Three Things Marissa Mayer Could Unveil to Save Yahoo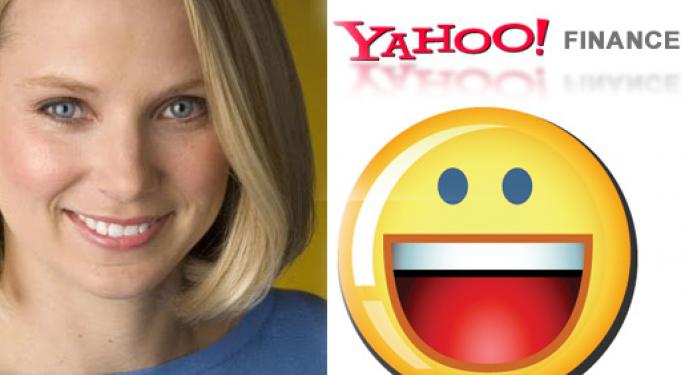 Yahoo (NASDAQ: YHOO) CEO Marissa Mayer is expected to publicly announce her plans to turn her firm into a profitable entity this week. While the details of her internal memo (leaked by AllThingsD) did not reveal what she will announce, there is a good chance that it will involve one or more of the following things that could save Yahoo.
1. New Partnerships and An Entirely Revamped Search Engine
Several months ago, Yahoo was rumored to be dumping Bing, Microsoft's (NASDAQ: MSFT) growing search engine, for Google (NASDAQ: GOOG). Nothing ever came of that rumor, so it seems unlikely that Yahoo will surprise the world by announcing that it will switch to Google tomorrow.
Yahoo might, however, be inspired to drop Bing and other search engines altogether and do what it should have done all along -- develop a fresh engine from the ground up. In doing so, Yahoo would gain control of its company again. It would be able to dictate its search functionality and maximize its capability without having to rely on another party's technology.
More importantly, it would give Yahoo the ability to sign massive, revenue-driving partnerships like the one that Google announced late last year. Google will pay Mozilla $300 million a year for three years to maintain its status as the default search engine in Firefox. By spending millions today, Google will make billions tomorrow. Yahoo could soon be in a position to do the same.
2. The Birth of a New Browser
Earlier this year, the company teased the idea of a new browser when it unveiled Yahoo Axis. This browser plug-in used Yahoo technology to power a unique, graphically-rich search box that populated users' browsers with a host of visual results.
Now imagine the possibility of using Axis all on its own. It might be rough around the edges, but many would say that is true of all browsers -- they always seem to be a work in progress. By developing their own browsers, however, Google and Microsoft have strengthened their brands. They have also been able to redirect users to their own websites.
Granted, Yahoo would need more than a simple browser to save the company. By developing a faster and superior product, however, users would gradually warm up to the idea of switching. And for every user that switches, the company would inevitably gain a new daily visitor to Yahoo.com.
3. One Key Acquisition
It could be a startup with some key technologies to bolster Yahoo's long-term strategy. It might be a stalwart with dozens of patents and talented employees that will transform Yahoo into an industry behemoth. Or it could be an acquisition that will further enhance the company's mission to become a leader in visual and audio entertainment.
If Yahoo takes the latter direction, expect the company to announce that it is acquiring a major content provider of music or movies/TV, such as Spotify or Hulu. Yahoo has already signed a deal with Spotify that will bring its music streaming technology to Yahoo.com. By acquiring the firm, Yahoo would gain access to the world's largest library of streaming music.
Follow me @LouisBedigianBZ
Posted-In: Hulu Marissa Mayer SpotifyNews Rumors M&A Tech Trading Ideas Best of Benzinga
View Comments and Join the Discussion!