Who Will Buy TiVo After Verizon Settlement?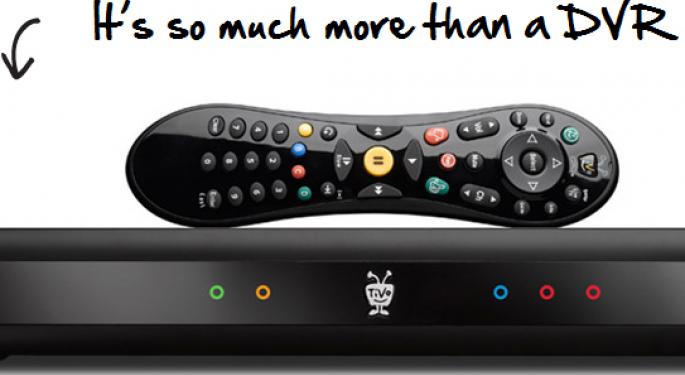 Earlier today, Verizon (NYSE: VZ) announced that it had finally settled its dispute with TiVo (NASDAQ: TIVO). Under the terms of the settlement, Verizon will pay TiVo at least $250.4 million, starting with a $100 million initial cash payment. This will be followed by quarterly payments through July 18, adding an additional $150.40 to TiVo's bottom line.
The two companies are currently exploring the possibility of bringing Verizon's online video service to TiVo's retail DVR products. Separately, Verizon announced that the service -- which it is currently developing with Coinstar's (NASDAQ: CSTR) DVD kiosk division, Redbox -- will debut before the year's end.
"We are pleased to reach an agreement with Verizon which underscores the significant value our distribution partners derive from TiVo's technological innovations and our shareholders derive from our investments in protecting TiVo's intellectual property," Tom Rogers, CEO and President of TiVo, said in a company release.
"We also look forward to working together on a variety of future opportunities as we continue to expand the content choices available to TiVo subscribers. As with prior settlements, we also benefit by being able to operate our business under license from Verizon and by avoiding future legal expenses that we would have incurred during and after trial. Furthermore, we believe this settlement positions us well with respect to future enforceability of our patents."
Now that TiVo has settled all of its major legal disputes, investor attention will quickly shift to the company's intellectual property, which makes it an attractive M&A target.
"We believe it is likely that the TiVo will be bought out within 24 months, but not before the resolution of the Verizon Wireless (NYSE: VZ) settlement," Rich Tullo, an analyst with Albert Fried & Co., told Benzinga last April.
At the time, Apple (NASDAQ: AAPL), Microsoft (NASDAQ: MSFT), Cisco (NASDAQ: CSCO), and Rovi (NASDAQ: ROVI) were thought to be most interested in acquiring TiVo. Apple could use TiVo to improve its Apple TV set-top box (along with any TV it develops). Microsoft could add DVR technology to the next Xbox, further enhancing its capabilities as an all-inclusive entertainment console. Rovi could feasibly use TiVo to enhance its video playback technology.
It is not clear why Cisco would want to purchase the firm, however. The last time that company purchased a video-related technology that it did not need, Cisco lost millions, eliminated jobs, and removed a popular brand from the marketplace.
Follow me @LouisBedigianBZ
Posted-In: News Rumors Legal M&A Success Stories Tech Trading Ideas Best of Benzinga
View Comments and Join the Discussion!