Canadian Auto Workers in Talks With Detroit Automakers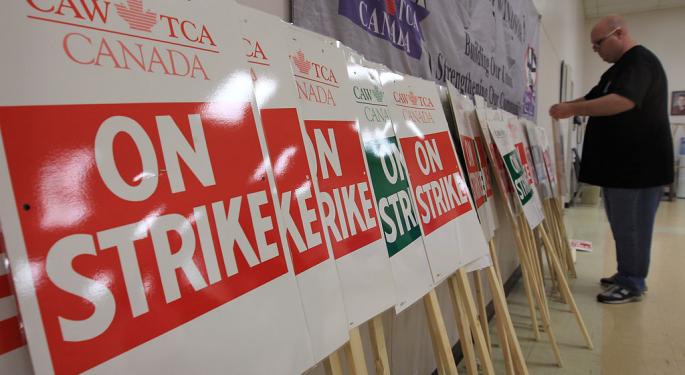 Amid pending labor strikes among members of the Canadian Auto Workers (CAW) union, Michigan automakers have each made statements that show a potential battle on the horizon.
Ford (NYSE: F) had been the first target for negotiations, while General Motors (NYSE: GM) has shown little interest in discussions. Chrysler (OTC: FIATY) has mentioned pulling out of Canada entirely.
As of Monday evening, the CAW avoided potential strikes against the automakers by extending contract talks indefinitely with General Motors and Chrysler while reaching a tentative agreement for four years with Ford.
CAW's Ken Lewenza has been very vocal about the myriad of issues that he feels are too numerous for the car companies to ignore, and as long as talks continue to make progress, the labor strike will remain postponed.
The finer points of the deal are as follows: Ford will provide the union workers (more than 7,000) with payouts of three lump sums over the span of the four year agreement, along with a $3,000 signing bonus. No cost of living increases will be administered, and in response, the CAW has agreed to decrease the starting wages of new workers. Top pay goals can still be achieved to the chagrin of General Motors and Chrysler, which are trying to implement a second-tier wage structure. The CAW is not willing to compromise on its top-pay structure, despite the automakers providing Canada-specific amendments to the current contracts.
A large portion of the Canadian economy depends on the three domestic automakers, as well as Toyota (NYSE: TM) and Honda (NYSE: HMC) and though a strike would certainly call attention to the union, it could be detrimental to the Canadian workforce.
The CAW targeted Ford first, as it believed the company was the best prospect in regards to meeting the CAW's demands. Should talks with General Motors and Chrysler not continue to be productive, the CAW is required to give a 24 hour notice before workers go on strike.
Shares of Ford are down 0.58 percent premarket and down 3.44 percent year to date, while General Motors is up 1.81 percent premarket and up 17.41 percent year to date and Chrysler is up 1.99 percent premarket and up 36.38 percent year to date.
Posted-In: Ken LewenzaNews Management Economics Pre-Market Outlook Trading Ideas Best of Benzinga
View Comments and Join the Discussion!