Morgan Stanley Gains Full Control of Smith Barney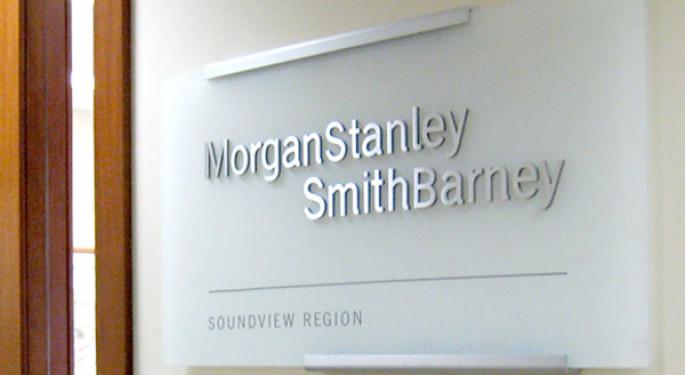 On Tuesday, Morgan Stanley (NYSE: MS) and Citigroup (NYSE: C) agreed on a valuation for their joint brokerage unit Morgan Stanley Smith Barney of $13.5 billion. This valuation will be used in the sale of an additional 14 percent of the business to Morgan Stanley, giving the Wall Street firm a controlling 65 percent stake in the high profile brokerage firm.
Morgan Stanley also plans on buying another 15 percent stake in the business by June 2013, with a plan of purchasing the entire operation by 2015.
According to a source, the valuation was reached with the assistance of Perella Weinberg Partners after the two firms reached vastly different valuations for the Morgan Stanley Smith Barney franchise. According to DealBook, Morgan Stanley attached a valuation of $9 billion to the business compared to $23 billion by Citigroup.
The $13.5 billion valuation will give the two firms a solid valuation for future purchases by Morgan Stanley. The Morgan Stanley Smith Barney brokerage came about as a combination of Citigroup's Smith Barney unit and Morgan Stanley's brokerage arm in 2009.
"This mutually beneficial agreement gives both parties certainty and transparency on price and timing, and is a significant milestone for Morgan Stanley in the implementation of our strategy," James P. Gorman, Morgan Stanley's chairman and chief executive, said in a statement.
The relatively low valuation reached by the two investment banks will cause Citigroup to have to take a write-down in the third quarter, according to DealBook. Citigroup's divestment of the brokerage unit is seen as part of a plan to remake the company in the wake of the financial crisis.
Vikram S. Pandit, Citigroup's chief executive, said: "As we have shown, the more we put the past behind us, the more we can focus on our future, which is in the core businesses in Citicorp."
View Comments and Join the Discussion!
Posted-In: dealBook The Wall Street JournalNews Asset Sales Management Best of Benzinga