Millions of Android Users to Buy Apple's iPhone 5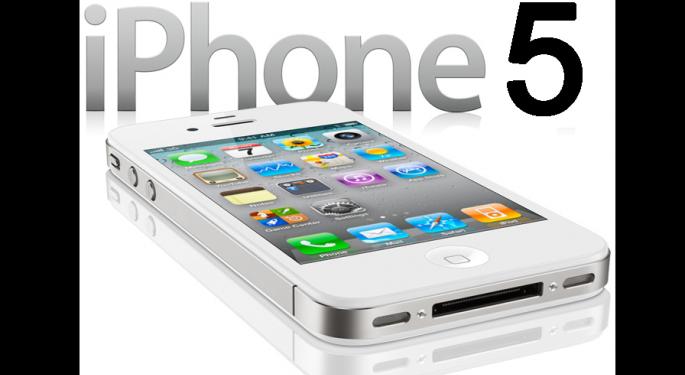 New research shows that as many as 22 percent of Google (NASDAQ: GOOG) Android users will dump their existing handsets for Apple's (NASDAQ: AAPL) iPhone 5 when it is released this month.
This and other findings come from TechBargains, which conducted a study asking users about their desire to purchase Apple's next-gen smartphone. While the results are not as revealing as a previous study, they indicate that a significant number of consumers, including those who do not yet own a smartphone, are interested in what the fifth iPhone will have to offer.
In fact, 32 percent of respondents who do not own a smartphone said that they will buy an iPhone 5. Of those buyers, three percent plan to wait in line to buy the device on the day it is released. Another three percent will buy it online as soon as it becomes available. The remaining respondents did not specify when they plan to make a purchase.
An impressive 38 percent of BlackBerry owners plan to abandon Research In Motion (NASDAQ: RIMM) for Apple. When speaking to existing Apple users, the percentage of potential iPhone 5 buyers was even higher. Seventy-four percent of iPhone 4 users, 71 percent of iPhone 3GS users, and 64 percent of iPhone 4S users plan to upgrade.
In total, 1,332 people participated in the study. Of those participants, 45 percent said that they will buy the iPhone 5 when it is released. Those consumers were then asked to select all of the reasons why they want the new smartphone.
Sixty-five percent said that it was because they want to upgrade their current iPhone; 29 percent said that "No phone compares to an iPhone;" 28 percent said they like to purchase the newest products; 14 percent want to switch from an Android device to an iPhone; 11 percent were encouraged by recommendations from family and friends; and seven percent want to own a second iPhone.
(Note that the first Android question related to Android users specifically. When surveying all potential iPhone 5 buyers, the percentage of people who are coming to Apple from Android declines.)
This is an interesting time for TechBargains to release its study. We are literally minutes away from the worldwide debut of Nokia's (NYSE: NOK) first Windows Phone 8 device. Amazon (NASDAQ: AMZN) plans to announce something -- possibly a new smartphone but most likely a new tablet -- this Thursday. Apple, meanwhile, will officially unveil the iPhone 5 on September 12.
Follow me @LouisBedigianBZ
Posted-In: Android Apple iPhone 5 TechBargainsNews Success Stories Tech Best of Benzinga
View Comments and Join the Discussion!