Exclusive: New Android-Based Handheld Gaming Device Unveiled to Take on Apple, Sony and Nintendo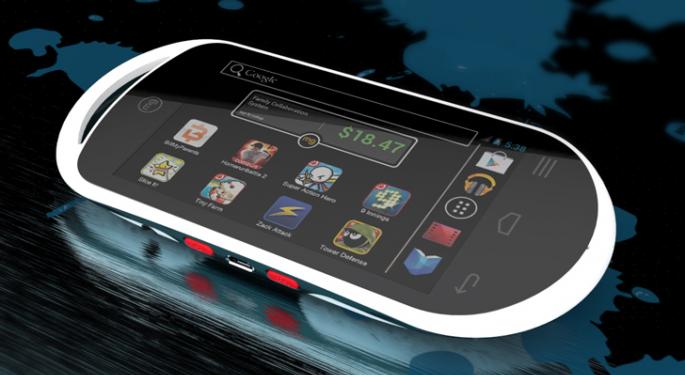 PlayMG, a new startup formed less than 60 days ago, has unveiled a brand-new, Android-powered handheld gaming device that is scheduled for release this November.
Retailing for $169.00, the MG (which stands for "More Games") will launch with a lower MSRP than Apple's (NASDAQ: AAPL) iPod Touch, Sony's (NYSE: SNE) PS Vita, and Nintendo's (NTDOY) 3DS XL.
Geared toward a younger (18 and under) demographic, MG will use Android 4.0 (Ice Cream Sandwich) and feature a four-inch screen, 1GB RAM, 4GB built-in memory, an SD port for additional storage options, a DebitSmart digital wallet system to pay for games, a 1.3MP front-facing camera, micro USB 2.0, and a TCC8925 Cortex A5 processor. PlayMG also plans to sell top-up cards at retail, allowing consumers to pre-pay for game downloads, but those will not be available at launch.
"[We] wanted to create a seamless digital wallet experience like Starbucks (NASDAQ: SBUX)," said T. Scott Edwards, one of PlayMG's Founding Partners and the company's official Marketing Guru.
Following in the footsteps of Ouya, the $99 Android-based game console that earned millions of dollars on Kickstarter, PlayMG will launch its own Kickstarter campaign this Wednesday, August 29. The company hopes to earn $950,000 through the site, but Edwards said that PlayMG can get by without a single pledge.
"All of the development money was funded for us, so we were very fortunate that way," he told Benzinga. "Kickstarter is kind of the new social marketing tool. What's interesting is that, in addition to using traditional investors and/or retailers to make the decision regarding how good your product is before launch, the consumer gets to have a vote now."
Those who do want to pledge can get an MG for $99 -- $70 less than the MSRP. This deal is limited to the first 2,000 people, but additional units can be purchased through Kickstarter for $149.00.
Building an Empire Overnight
While PlayMG was formed in July, the project first began about 150 days ago. "It sounds crazy, but I have experience in crazy," said Edwards, a former executive of Sony, Gateway, Hewlett-Packard (NYSE: HPQ), and Cricket Communications. "When I was at Gateway in 2002, we went from just being a configure-to-order PC company with no consumer electronics products to having 100 consumer electronics products and taking our stores, which had no inventory, and making them convergent stores and we did all that in nine months."
"The tech industry used to be known for that sort of speed," Edwards added. "It's a little crazy but it's not unheard of. It used to be that people did this all the time. The device was actually in the process of being developed a little before that but they didn't really know what market they were going to put it into, so we really found the right application for this marketplace. All the rest of it has been incubated and developed in 150 days."
PlayMG found its market after researching the industry (and, most importantly, consumers).
"All these kids want to have smartphones," said Edwards, who clarified that when he says "kids," he is also referring to tweens and teens. "But as you know, smartphones are relatively expensive. Even if you can get a cheap phone because it's subsidized, the cost of having a monthly data plan for a kid is [huge]. Most kids don't use these phones to talk anymore, they text and mostly they use these apps and they're on the Internet."
Edwards found that there are 63 million kids under the age of 18. Thirty-nine million of them don't own a smartphone or an iPod Touch. "Those are the kids that [want] a portable, pocketable device to play games on," said Edwards. "That's a big market."
As an Android-based gaming device, PlayMG could reach a much larger audience. For now, however, the company wants to stick to one market.
"The first rule of marketing is sacrifice," Edwards explained. "We could and eventually might appeal to a broader audience, but in terms of starting out, we wanted to be very focused. The 39 million addressable audience is a pretty big niche for us to go after."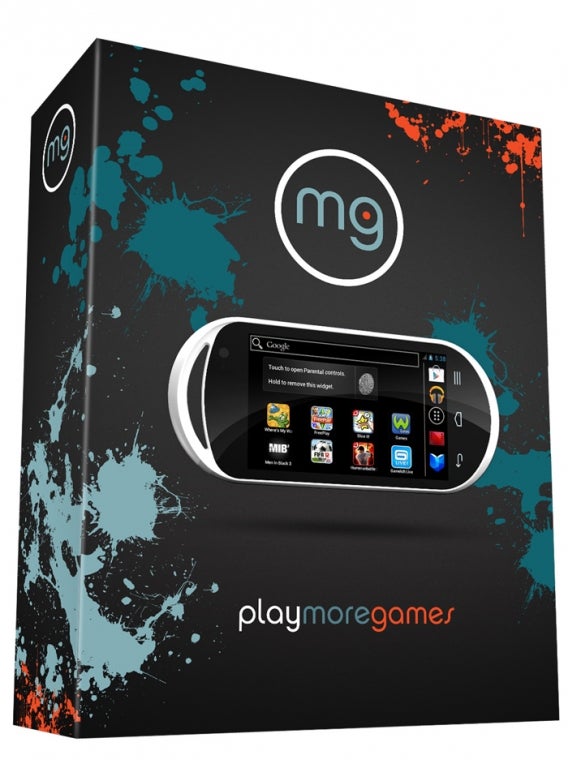 Stiff Competition
Noting that sales of competing devices from Sony, Nintendo, and Apple have reached 20 million in the United States, Edwards said that PlayMG's goal is to get "three to five percent of that in the first year, and then over 20 percent over the next four years."
When facing off against the PS Vita and Nintendo 3DS, Edwards said that he thinks MG will do "very well" because of the expense associated with the other devices. "I read the Best Buy (NYSE: BBY) circular last week and they had the 3DS XL advertised," he said. "It's a pretty cool device but then right next to it are four Mario games for $40 a pop. I don't care how cool the device is, no one wants to pay $40 for a packaged game for Super Mario when you can get Angry Birds for free or 99 cents."
Sales figures of New Super Mario Bros. DS and New Super Mario Bros. Wii suggest otherwise. But Edwards believes that the differences in game quality (between a Nintendo handheld and an Android device) will continue to diminish, which could further reduce the value of $40 games.
"I think Android developers will bring that kind of game, and they are already bringing [high-end] games to that world," he said. "I think consumers are going to decide, based on their experiences, when they have a little bit of time, what kind of game they're satisfied with."
"We don't have to kill the other industry, we just have to appeal to those who….want an app gaming device," Edwards added.
The Nexus 7 Problem
MG's biggest challenger may not be any of the familiar players. It could be Google (NASDAQ: GOOG) or Amazon (NASDAQ: AMZN), as both firms produce seven-inch tablets for $199.
"There's going to be a lot of news about tablets this holiday season, no doubt about it," said Edwards. "We spent a lot of time showing products and talking about the products with kids. All the kids that we talked to, while they enjoy tablets at home, they wanted a pocketable, portable device. You cannot put a tablet in your pocket -- not even a seven-inch tablet, unless you have really big pockets. I think the form factor is a big thing. I think the ergonomics of it, the rounded edges, and the way you play two-thumb touch screen games, it's a lot easier with a smaller device."
And if Apple Sues Google Over Android…
"I'm not worried about that and I won't worry about that for a year or two," said Edwards. "Those are big, complicated suits. They drag on for a long time. I don't know if that suit will ever exist. Our job is to stay very focused on trying to launch a good product for our customers, get some traction for that, and we'll cross that bridge when we get there."
Update 8-29-12: The Kickstarter campaign has now begun.
Follow me @LouisBedigianBZ
Posted-In: Apple iPhone iPod Touch MGNews Success Stories Startups Tech Best of Benzinga
View Comments and Join the Discussion!