Gas/Electric Hybrids Still Dominating Fully Electric Offerings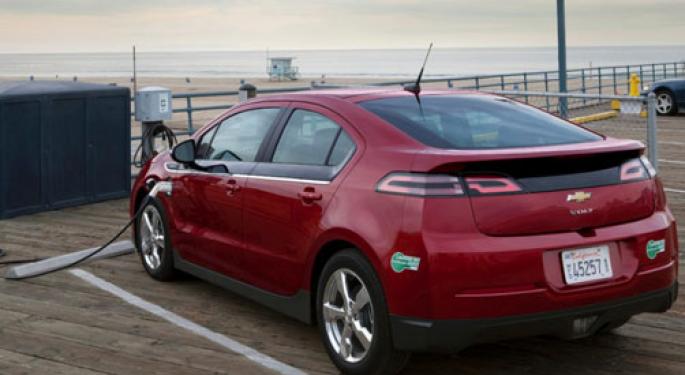 Much excitement surrounded the release of Tesla's (NASDAQ: TSLA) Model S. The Model S is reported to begin selling at $49,900 before taxes, which by comparison to other vehicular options is decent given its electric engine.
Yes, General Motors' (NYSE: GM) Chevrolet Volt (starting at $39,145 before $7500 in available tax credits) is a gas/electric hybrid, but still remains a popular contender in the segment occupied by the Nissan Leaf (starting at $27,700), Ford's (NYSE: F) Focus Electric (starting at $39,200) and the Fisker Karma (starting at $96,895). All electric/hybrids from publicly traded companies start significantly less than the privately-held Fisker offering.
So, just how available will the Model S be? Chevrolet's Volt has gained popularity that has spread widely across the United States whereas Ford has yet to release the Focus Electric and the Nissan Leaf has been reported to have experienced a 69% decline in June sales compared to the prior year.
Nissan's poor Leaf sales reflect the trends in "fully electric" vehicle sales, a market that many automakers (Ford, BMW, Honda (NYSE: HMC), Toyota (NYSE: TM), Mitsubishi and General Motors) have all tried to dominate with their vehicle offerings.
Fisker has dealerships now but with the hefty price tag, the Karma model is not a hot seller. Fisker has also followed suit with the numerous automotive recalls that have been publicized heavily as of late.
Toyota offers the smaller Prius C, regular Prius, Prius V and Camry Hybrid, all of which achieve high-30s to low-40 miles per gallon. The attractive Honda Insight offers a body style that emulates the Prius with an interior made of fine materials and colorful dashboard backlighting and liquid crystal displays, as does the two-door CR-Z, which emulates Honda's retired CRX model of the late 1980s. The Volt -- the only domestic hybrid -- has gained the loyalty of consumers looking for these options in a vehicle manufactured state-side, which shows in the car's 200% increase in sales during 2012 alone.
As the gas/electric market gains traction, more options will become available that will help dilute Toyota's share in affordable product offerings near-term. Long-term, as electric vehicle options (including gas/electric) become more plentiful, strategy planners and optimists predict that more than half of all new car sales will be a hybrid of some sort within the next 10-12 years.
View Comments and Join the Discussion!
Posted-In: chevrolet volt Fisker Karma Ford Focus ElectricNews Offerings Economics Tech Trading Ideas Best of Benzinga