Nokia Rejects Android, Reaffirms Windows Phone 8 Support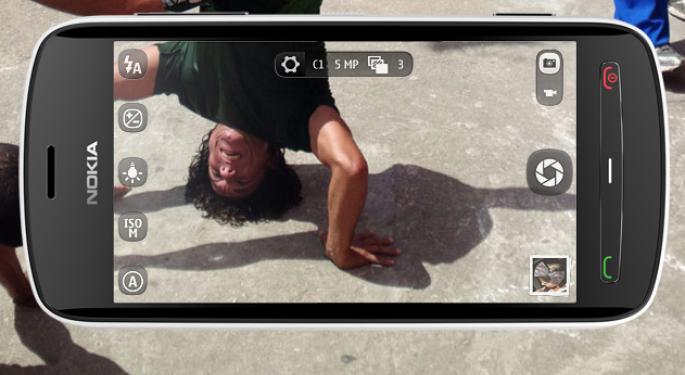 Nokia (NYSE: NOK) has reaffirmed its support for Microsoft's (NASDAQ: MSFT) upcoming mobile operating system.
In an interview with Reuters UK (via CNET) and other reporters, Nokia CEO Stephen Elop said that he does not "think about rewinding the clock and thinking about competing elsewhere."
"In today's war ... [between] Android, Apple and Windows, we are very clear, we are fighting that with the Windows phone," said Elop, who promised that Nokia would soon unveil a new smartphone for the upcoming Windows Phone 8 platform, to Reuters. Moreover, Reuters speculated that the device will be introduced before Apple (NASDAQ: AAPL) unveils the iPhone 5, which is rumored to go on sale in September.
Samsung, which has used Google's (NASDAQ: GOOG) Android platform to achieve massive sales results, has managed to outsell Apple by a large number of units.
Regardless, studies show that when users switch from one platform to another, they aren't leaving Apple behind. Instead, users are more likely to abandon Android for iOS.
ChangeWave Research, which conducts monthly and quarterly surveys of the smartphone market, discovered that the demand for the iPhone 5 is bigger than the demand for any of its predecessors. Samsung is attempting to undercut the iPhone 5's unveiling by revealing another new smartphone, presumably the Galaxy Note II. Samsung may also attempt to cut into Nokia's territory by releasing two Windows Phone 8 devices.
While Nokia has made it clear that the company plans to stand by Microsoft's platform, the Lumia 900 maker recently parted ways with a number of patents, as well as Qt, the company's cross-platform application framework. Nokia also signed a deal with Groupon (NASDAQ: GRPN) to bring daily deals to Nokia's Maps application.
In July, Nokia announced that it had shipped 10.9 million Lumia devices in the first three quarters of its release, beating the previous shipment records set by Apple and Samsung.
Despite the company's achievements, Nokia still has many hurdles to overcome. AT&T (NYSE: T) has stopped promoting Nokia devices in favor of more popular smartphones from Apple and Samsung. During the second quarter, Nokia's market share declined by more than 14 percent.
Days prior to this announcement, a senior Lenovo executive laughed off a rumor that suggested the company would acquire Nokia.
Follow me @LouisBedigianBZ
Posted-In: Android Apple Galaxy Note II Galaxy S III Google iOSNews Tech Best of Benzinga
View Comments and Join the Discussion!