Vringo Rings Up Nokia Patent Portfolio, Catches Trader's Eyes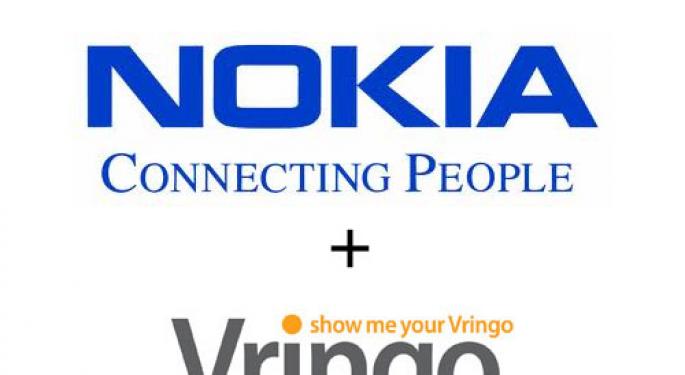 Vringo (NYSE: VRNG) and Nokia (NYSE: NOK) have announced they have entered into a patent agreement.
Vringo is a provider of software platforms for mobile social and video applications. Rumors have been circulating since March that Vringo was "patent trolling" and it has indeed hooked a 500 patent and patent application portfolio from Nokia.
Among the patent portfolios included in the agreement is a wide spectrum of cellular infrastructure software plus third and fourth generation wireless technologies. At first look it appears Nokia was losing tremendous value but a large portion of the patents were granted in late 1990s and early 2000s. The patents according to a Wall Street Journal report have a lifespan on average of 6.7 years.
Vringo has basically flown below the radar of most major analysts, except Maxim Group, which initiated coverage with a Buy rating and $6.50 price target on August 7.
The stock has been a daytrader's dream with daily average volume around 3.17 million shares, almost 10 percent of the stock float. In early trading Vringo shares were up eight percent before trading down six percent on heavy volume. Volume as of 12:00 PM EST has surged to almost 5 million shares and will surely double the daily average by the close.
Today's extreme volatility can possibly be attributed to Vringo's announcement that the company has entered into a subscription agreement to sell an additional 9.6 million shares of common stock for $3.25 per share. Of the $31.25 million raised, 90 percent will have come from three institutional investors. Vringo conducted the offering directly to the investors and used an underwriter.
The ringtone specialist shares have been on quite a roll of late, trading up over 56 cents (17 percent) a share from July 31 and have blown through its 50 day moving average before Thursday's announcements. In fact, the shares have quadrupled this year and have caught the eye of tech investor and owner of the Dallas Mavericks Mark Cuban.
Back on July 19, Vringo completed its merger with Innovate/Protect, an intellectual property software company. The firm had filed suit against AOL (NYSE: AOL), Google (NASDAQ: GOOG), IAC/Interactive (NASDAQ: IACI), Gannet (NYSE: GCI) and Target (NYSE: TGT) over eight patents Vringo bought from Lycos in 2011.
AOL agreed to settle its patent dispute with Vringo, but no details of the settlement were made public. However, a March article on TechCrunch points out that the Google patent infringement suit alone could net Vringo a large portion of the $67 billion Google has earned since 2001 using Ken Lang's patent (former owner of Innovative/Protect). The Motley Fool reported that the Maxim Group stated the AOL victory, "offers confirmation that there is validity to the Vringo/Innovate/Protect search patents."
There are many moving parts to Vringo, especially for a company with a market cap of $119 million. If Google decides to settle for 10 percent of the patent suit it would add 50 percent to the value of Vringo. This is a stock that seems to find itself always in the headlines. Good, bad or indifferent, Vringo is worth keeping an eye on.
Posted-In: Dallas Mavericks Mark CubanM&A News Contracts Legal Management Movers Best of Benzinga
View Comments and Join the Discussion!