Will AT&T's New Strategy be the End of Nokia?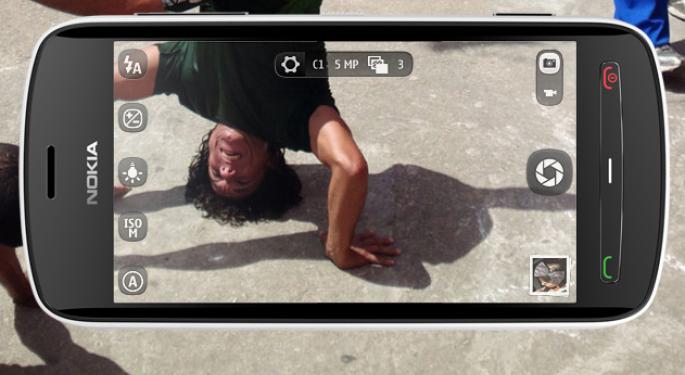 AT&T (NYSE: T) has a new strategy for Nokia's (NYSE: NOK) latest and most popular phones: it has decided to carry and promote Android and iOS models instead.
While there have been reports that AT&T, Verizon (NYSE: VZ) and other carriers dislike the iPhone, Apple's (NASDAQ: AAPL) flagship device continues to receive ample support from most major telecommunications companies. Google's (NASDAQ: GOOG) Android platform is frequently promoted as the cheaper and sexier alternative to the iPhone, which has helped Samsung rise to the top of the smartphone market. In the last quarter alone, Samsung was expected to ship 20 million more cellular devices than Apple. Final retail numbers proved to be even better, as Samsung shipped 22 million more units.
Last month, it was revealed that Nokia -- the only company to adopt Windows Phone 7 (and soon Windows Phone 8) as its primary mobile OS -- had achieved a surprising milestone that abolished previous records set by Apple and Samsung. During the first three quarters of its release, Nokia's Lumia devices shipped 10.9 million units. This dwarfed the iPhone, which shipped 5.4 million units during its first quarter. The Lumia also trounced the initial number of Android devices (1.5 million in three quarters) that Samsung shipped.
Based on that alone, it would seem that Nokia -- which has been struggling to maintain its position as one of the world's largest manufacturers of cellular devices -- will have a very bright future. However, that may not be the case.
According to Bloomberg, some AT&T stores do not keep the Lumia 900 in stock or bother promoting Nokia's phones to its customers. On the main wireless devices page on AT&T's website, the company does not feature any Nokia devices. Apple's products are nowhere in sight either, but a link promoting the iPhone 4 can be found at the bottom of the page.
There are several Android smartphones being promoted, including Samsung's Galaxy S III, as well as a handful of lesser-known models.
This could suggest that Apple, as well as Nokia, will have a rough road ahead. However, Apple has the advantage of unprecedented customer loyalty, a multi-billion-dollar ad campaign and hundreds of Apple-owned retail outlets to support every device the company releases. Nokia does not have any of these advantages and thus, the company could have a difficult time regaining its presence in the wireless device market.
Follow me @LouisBedigianBZ
Posted-In: Android Apple AT&T BloombergNews Topics Tech General Best of Benzinga
View Comments and Join the Discussion!