Apple Acquires AuthenTec for $365 Million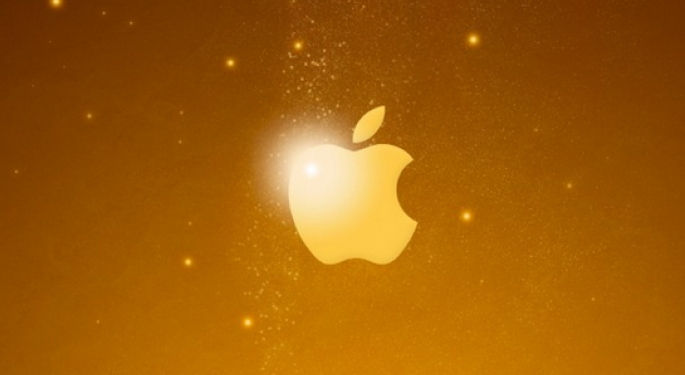 Tech giant Apple (NASDAQ: AAPL) is buying mobile security company AuthenTec (NASDAQ: AUTH) for $365 million.
The deal is particularly interesting because only ten days ago, AuthenTec signed a deal with Samsung for Android devices. With a vicious patent battle going on in court between Apple and Samsung, this acquisition will likely fuel the fire.
Earlier in June, Benzinga's Louis Bedigian reported that Samsung was expected to have sold 50 million smartphones in the second quarter, compared to just 30.5 million iPhones sold by Apple.
"Samsung is expected to be the smartphone hero in the second quarter," IDC analyst Francisco Jeronimo told Reuters. "We are also expecting to see the biggest smartphone volumes ever shipped from one single vendor in one quarter, driven by strong demand of the Galaxy portfolio, particularly the Galaxy S II and S III."
That appeared to put the ball in Samsung's court, but the The Los Angeles Times reported differently on Thursday. During the ongoing patent infringement trial, Apple argued that Samsung was warned by several parties that its Galaxy products were too similar to the iPhone and iPad.
"Samsung's documents show the similarity of Samsung's products is no accident or, as Samsung would have it, a 'natural evolution,' " the Apple brief reads. "Rather, it results from Samsung's deliberate plan to free-ride on the iPhone's and iPad's extraordinary success by copying their iconic designs and intuitive user interface. Apple will rely on Samsung's own documents, which tell an unambiguous story."
Apple's acquisition of AuthenTec, which makes fingerprint sensor chips used in personal computers, security software and mobile phones, adds a fascinating twist to what was already an interesting story. AuthenTec's clients, (besides Samsung), include Lenovo Group, Fujitsu, and Dell (NASDAQ: DELL), which surely help in boosting annual company revenue to roughly $70 million.
The full announcement was filed with the Securities and Exchange Commission (SEC).
"On July 26, 2012, AuthenTec, Inc., a Delaware corporation (the "Company"), entered into an Agreement and Plan of Merger (the "Merger Agreement") with Apple Inc., a California corporation ("Parent"), and Bryce Acquisition Corporation, a Delaware corporation and a wholly owned subsidiary of Parent ("Merger Sub"), providing for the merger of Merger Sub into the Company (the "Merger"), with the Company surviving the Merger as a wholly owned subsidiary of Parent. The Merger Agreement was unanimously approved by the Company's Board of Directors," the announcement states.
"At the effective time of the Merger, each share of Company common stock issued and outstanding immediately prior to the effective time (other than shares (i) held by the Company in treasury, (ii) owned directly or indirectly, by any of the Company's wholly owned subsidiaries, Parent, or Merger Sub or any other direct or indirect wholly owned subsidiary of Parent, or (iii) held by stockholders who have perfected and not withdrawn a demand for appraisal rights under Delaware law) will be automatically cancelled and converted into the right to receive $8.00 in cash, without interest."
The idea that Apple bought AuthenTec just to spite Samsung is highly doubtful, as the company obviously sees value in a profitable security tech company. However, the Apple executives may be smirking behind closed doors.
On Friday morning, AuthenTec traded at about $8.20, up roughly 61.2 percent. Apple traded at about $572, down roughly 0.5 percent.
Follow me @BCallwood.
View Comments and Join the Discussion!
Posted-In: Android Francisco JeronimoM&A News Legal Markets Tech Trading Ideas Best of Benzinga