Is Microsoft Surface an iPad-Killer or Just Another Zune?
Microsoft (NASDAQ: MSFT) unveiled its long-awaited tablet last night bringing hype, self-praise, and an interesting cover that doubles as a keyboard. But in the aftermath of this hazy event, it seems that Microsoft might have set itself up for another Zune-sized failure.
Technologically, Surface (the official name of Microsoft's new tablet) might very well be the next best thing to an iPad. But Microsoft did very little to convey that it is capable of competing with Apple (NASDAQ: AAPL). In reality, it might have done the opposite.
Instead of introducing Surface with a host of features and a mountain of triple-A software, Microsoft held yesterday's event with only two goals in mind: (1) to show us the design of the company's new tablet, (2) and to unveil its potentially innovative Surface covers, which double as keyboards. That was the extent of the event, which is why media coverage from those in attendance is limited to (at best) praise for the display quality. Indeed, it appears that the Windows maker has created an impressive device for viewing movies. Unfortunately for Microsoft, we already have that.
What exactly can Surface do? No one knows. We know that it runs Windows 8. We know that it will come in two varieties (one for consumers and one for pro users). And we know that there will be two covers available for Surface -- one that doubles as a touch keyboard, and one that features actual (pressable) buttons.
Microsoft created a website, surface.com, to continue hyping the device after its tablet unveiling. But instead of adding new revelations about the tablet, surface.com (which redirects to microsoft.com/surface) continues the PR hoopla of vague descriptions. In scrolling through the gallery of images, Microsoft says that its tablet is "a unique expression of entertainment and creativity" and "a tablet that works and plays the way you want." The company goes on to claim that it has created "a new type of computing."
But where is the proof? Not in the launch video, which reveals absolutely nothing about the tablet's capabilities.
In typical Microsoft fashion, glitches have already struck the Surface website. Upon searching for the tablet on Google (NASDAQ: GOOG) this morning, users may have encountered this: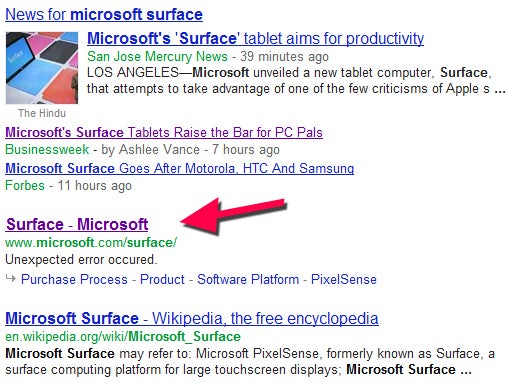 And upon visiting surface.com, they may have seen this: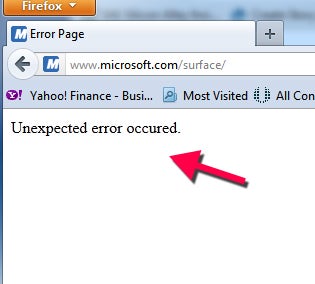 Most hilariously, when the page finally loads, they will see this: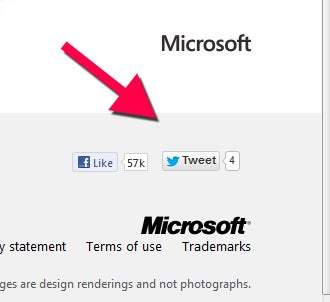 More than 57,000 Facebook Likes…and just four tweets!
Five months from now, when the dust has settled and consumers can finally see and touch Surface in person, Microsoft might be able to prove that it has created a worthy iPad competitor. Until then, the vague unveiling has left the world with more questions than answers -- and great fear that we are on the cusp of another Zune.
Follow me @LouisBedigianBZ
Posted-In: Apple iPad Microsoft Surface SurfaceNews Tech Best of Benzinga
View Comments and Join the Discussion!