Can 3D Streaming Save Netflix?
The streaming video giant is rumored to be bringing 3D video to streaming subscribers. But is it enough to keep Netflix afloat?
At this time last year, nothing could touch Netflix (NASDAQ: NFLX). As the only major player in the streaming marketplace, Netflix had a bit of a monopoly on the market. It also controlled a large part of the DVD rental space, despite fierce competition from Coinstar's (NASDAQ: CSTR) kiosk service, Redbox. But then Netflix raised its prices, angered customers, and told the world that it no longer cares about DVDs. This has not sat well with customers, who loyally lined up to subscribe to the old Netflix, as they are now having a hard time coping with the new Netflix.
In the months since Netflix announced its price hike, we've seen new content deals from Amazon Prime (NASDAQ: AMZN), an expanded movie selection from Hulu, the introduction of a brand-new service from Comcast (NASDAQ: CMCSA), and a joint venture between Redbox and Verizon (NYSE: VZ). With Dish (NASDAQ: DISH) slowly gaining momentum with its new streaming/on demand offerings (courtesy of the firm's Blockbuster acquisition), this could be a very painful year for Netflix.
This has left many wondering: is there anything the company can do to prevent the competition from taking over? "Better content" is the obvious answer. But until movie and TV deals are cheaper and easier to come by, Netflix won't be able to win the war on content alone.
Most services have matched Netflix's pricing model, and Comcast is going the extra mile by charging only $5 per month for Streampix. Granted, Streampix is currently the weakest of all the streaming video services available. But that will likely change as Comcast moves all of its NBC shows from Hulu to Streampix.
If Netflix can't win on the basis of content or pricing, what can it do to thrive in the video rental industry?
Netflix could start by being the first streaming video service to bring 3D video to the masses. PlayStationLifestyle.net has reported on an interesting rumor that suggests that Netflix will bring 3D streaming to PlayStation 3, presumably in 2012.
The rumor started when a guy at GamerXChange claimed to have stumbled upon a "glitch" while loading the PlayStation 3 version of Netflix. That glitch included an extra icon next to the normal HD and 5.1 images: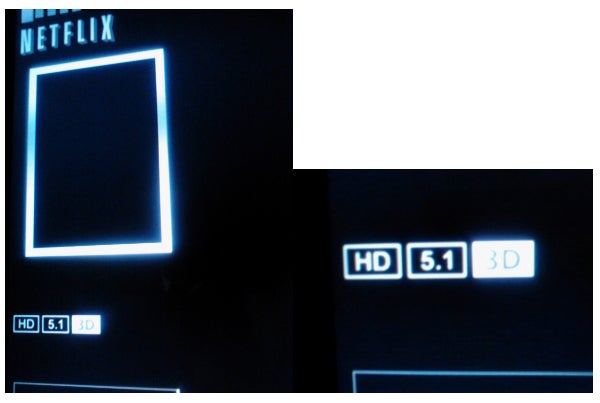 Photo Credit: GamerXChange
That blurry, glowing rectangle says "3D." Whether or not this image is real, no one knows. Actually, let me clarify that: my gut says it's a fake. While it is wholly possible that events transpired as GamerXChange claimed, I'm going to take a wild guess and assume that this is another Internet hoax spurred by wishful thinking.
However, this does not mean that Netflix isn't planning to stream 3D videos. When the service came to Nintendo 3DS, it was somewhat of a joke because users could only watch videos in two dimensions. For those of you who aren't aware, Nintendo's (NTDOY) entire marketing campaign focused on the fact that the Nintendo 3DS could play games and videos in 3D. To put it lightly, the Netflix deal crapped all over Nintendo's parade.
The assumption is that 3D content will come to the 3DS eventually. But at this point, it seems more likely that Netflix will first bring 3D movies to the living room. And that's where PlayStation 3 comes into play. As a console that is already capable of playing 3D content, the Sony (NYSE: SNE) machine would be the perfect device to test drive 3D streaming. Better still, PlayStation 3 owners are more likely to have a 3D TV than the average Netflix user, so it's a win-win situation.
Three hurdles that could hinder these plans are physical (file size), technical (Netflix would likely have to rely on movies that film studios already display in 3D via Blu-ray), and financial (expect a new fee to be tacked on for 3D streaming to cover any additional costs Netflix may incur).
The first hurdle could be the most challenging of all. With HD file sizes already in the gig-per-hour range, one can assume that streaming Avatar in 3D would require some serious bandwidth.
On the technical side of things, a part of me wonders if this is even possible. If it were, wouldn't other companies already be doing it? Comcast subscribers can watch select On Demand videos in 3D. Cable is obviously much different from streaming video, but the fact that Comcast offers it proves that the feature is attractive to some viewers. If Netflix was the first streaming video service to launch a 3D platform, those viewers would surely take notice.
But if 3D is possible, if it is coming this year, and if Netflix is getting ready to make a big announcement, the question becomes this: how much extra should the company expect consumers to pay?
Maybe Netflix would be smart to ask consumers that very question. Inevitably, many would respond by saying, "One penny!" or "Nothing! I want 3D for free!" But just as users proved with the Humble Indie Bundle, it's okay to ask consumers what they'd like to pay. In the worst-case scenario, Netflix would only get to raise the price by a buck or two for 3D streamers. In the best-case scenario, the company might actually have the leeway to charge $3 to $5 extra.
Either way, if consumers are given the chance to vote, they'll feel like they were part of the process and will be more likely to support whatever price point Netflix implements.
Follow me @LouisBedigian
Posted-In: GamerXChange Netflix PlayStation 3 PlayStationLifestyle.netNews Rumors Success Stories Tech Best of Benzinga
View Comments and Join the Discussion!