Why Tesla Motors Inc Isn't A Car Company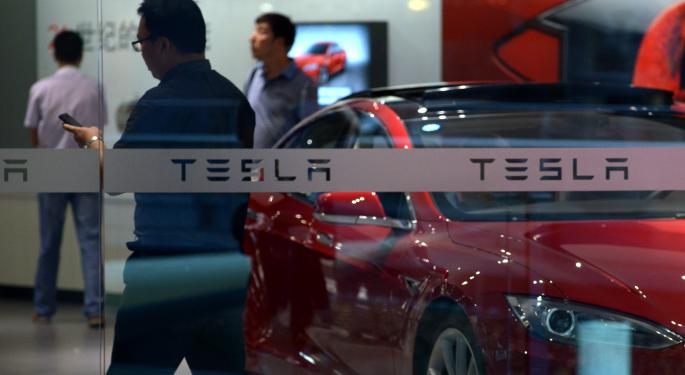 Alternative investment practitioner and ValueWalk author Mark Melin says that there has always been algorithmic trading in the stock of Tesla Motors Inc (NASDAQ: TSLA).
He was referring to a trading system that Investopedia defines as using advanced mathematical models for making transaction decisions.
Melin recently joined Benzinga's #PreMarket Prep to talk about the recent algo-trading moves in Tesla, the unexpected announcement that moved the stock and how certain hedge fund managers view it as something other that a car company.
Experience From The Pits
Melin explained that he has industry knowledge on how algorithmic trading works.
Related Link: Malte Kaub On New All-Time Highs For DAX
"I was in the pits developing the algos. I've been involved in the meetings on how the algos work, how they think," Melin said. That's what the title "alternative investment practitioner" refers to, and it's why he understands when the algorithms kick in during trading.
Earlier this month, shares of Tesla dipped down to $240. If the stock had gone below that level, Melin said he thinks additional algorithms would have been triggered and probably taken the stock down to $220.
"But what happened that was interesting is, just when it was at the point where it was about to trigger some additional algos, [Tesla CEO] Elon Musk came out with that tweet about the 'D,'" Melin said.
He's referencing a tweet sent out by Musk on October 1 that sent shares soaring and analysts into a speculative frenzy.
"I think it's going to result in two product announcements: both all-wheel drive and autonomous driving," he said.
More Than An Automaker
Even if the stock continued to drop, Melin isn't sure he would short it.
"I have difficulty shorting Elon Musk.," he said. "I think he's probably one of the most innovative people in modern society."
Related Link: How A Tweet Moved Tesla Motors Inc
While a lot of people look at Tesla from just the standpoint of being just a car company, Melin said he talks to a lot of fund managers who view it instead as a battery company. Tesla announced the location of its new Gigafactory for battery manufacturing just last month.
If Tesla can "reinvent and reinvigorate" the battery by giving it a long life, Melin said, it can have applications for a wide range of products.
"That car model probably has a significant degree of legs, but the real big upside is if they develop something in the battery space that allows for batteries to power everyday machinery," Melin said. "Then you have a complete game-changer and a company that will probably dominate the landscape for decades to come."
Check out his full interview here:
Don't forget to tune in to Benzinga's #PreMarket Prep Monday-Friday 8-9:45 a.m. ET to get 300 commission-free trades from Charles Schwab.
View Comments and Join the Discussion!
Posted-In: algo trading auto Benzinga #PreMarket Prep Mark Melin Tesla tweetTech Interview Best of Benzinga