The Worst Performing Large Cap Stocks of 2012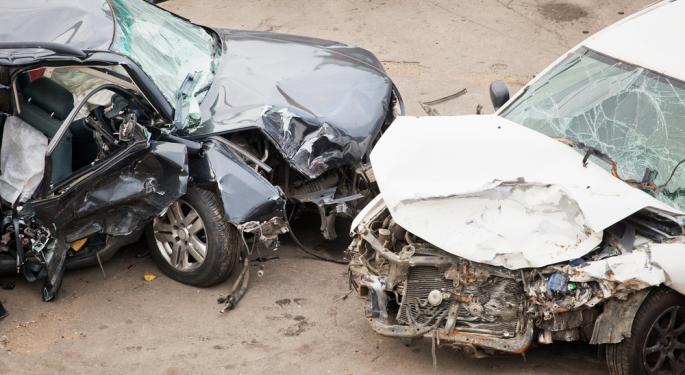 Overall, 2012 was a solid year for the stock market. The S&P 500 will finish up around 12 percent, slightly above its historical average return. While most investors won't be able to buy a private island based on that, it's another year where the index edges closer to its all-time high.
Still, some stocks had dramatic declines amid an otherwise bullish market. These include several large cap companies that are household names across the globe.
The following list is the four worst performing large cap stocks of 2012. Those who held these stocks through the year lost 30 percent or more of their investment:
Dell (NASDAQ: DELL)
For those who remember the old "Dude, you're getting a Dell" commercials, that saying may seem less relevant now than ever before. With PC sales struggling as consumers opt for mobile devices, the Round Rock, Texas based computer giant had an abysmal year in the stock market.
Shares of Dell are down nearly a whopping 32 percent this year. And the news only gets worse. According to Forbes, Barclays analyst Ben Reitzes has slashed his forecast of 2012-2016 PC sales from five percent to two percent sequential growth. This is due to competition from mobile devices which, according to Reitzes, could result in cumulative lost PC shipments of 75 million over the next three to five years.
Facebook (NASDAQ: FB)
With seemingly everyone on the planet having a Facebook account, it's hard to imagine anything but success for this immensely popular social media mogul. In fact, the company reported one billion active monthly users in October of 2012. Based on the U.S. Census Bureau's estimates of just over 7 billion people on Earth, one of every seven human beings uses this social media site.
Despite the company's enormous success since its founding in 2004, Facebook is down over 30 percent this year. Priced at $38 for its IPO in mid-May, it was under $30 per share by the end of the month and fell to just over $18 in late August. It has partially recovered to a current price of near $26, but was clearly suffered from an overly aggressive pricing of its IPO.
Sony (NYSE: SNE)
Japanese electronics giant Sony has built a reputation over the years for developing reliable consumer electronics. One thing it didn't build in 2012, however, was investor returns.
Sony is down almost 39 percent for the year, which isn't far off from poorly-performing competitor Panasonic's (NYSE: PC) drop of over 31 percent. However, fellow industry heavyweight Koninklijke Phillips Electronics (NYSE: PHG) posted gains of over 25 percent, which will certainly put pressure on Sony to perform much better in 2013.
Sony has struggled with a strong yen, falling demand for its PCs, and an unprofitable TV business.
Hewlett-Packard (NYSE: HPQ)
Despite developing a reputation as a reliable PC manufacturer in recent years and generating top revenues in the industry, H-P had an awful year in the stock market. The company will close out 2012 down over 45 percent, making it the worst performing large cap stock in the market.
The company suffered from the same problems as Dell, with consumers increasingly favoring mobile devices. However, the company had to contend with an even more dire situation: Accounting issues at recent acquisition Autonomy, which lead to a multi billion dollar write down.
Posted-In: Movers Trading Ideas Best of Benzinga
View Comments and Join the Discussion!