Want to claim 6 FREE stocks? Head over to Webull to get started.
Canopy Growth Corporation (NYSE: CGC) (TSX: WEED) is the largest cannabis-producing company in the world by market capitalization with a market cap of $16.33 billion. The relatively new cannabis industry has exploded in the last several years as the legalization process has progressed. Knowing how to invest in marijuana stocks gives you a significant advantage over other traders and investors unfamiliar with this growing business sector.
2.59 – 2.78
2.61 – 24.14
2.73
403.14M
9.14M/6.25M
1.07B
403.14M
/0%
0.000
260.50M
History of Canopy Growth and Stock Performance
Based in Ontario, Canada, Canopy Growth Corp was founded in 2013 and was formerly known as Tweed Marijuana Inc. Canopy Growth became the first cannabis company in North America to be publically traded in April 2014.
The company operates through its subsidiaries and focuses on production and sales of cannabis flowers, hemp and derivative products for Canadian medical and recreational markets. Canopy Growth's 13 major production facilities throughout Canada are estimated to have a peak production capacity of 525,000 kilograms of cannabis per year.
Canopy Growth entered into a strategic partnership with Constellation Brands Inc. (NYSE: STZ and STZ.B) to gain a foothold into the 30 countries considering cannabis legalization in October 2018. A leading international producer of beer, wine and spirits, Constellation Brands entered the cannabis market with a $4 billion investment in CGC stock. Constellation now owns 56% of the company.
Weed Inc., the company's predecessor, first went public in 2010 with a market cap of $300 million on the Toronto Stock Exchange (TSX). It was originally listed under the ticker symbol WEED. Canopy Growth became fully listed on the TSX in July 2016 and it began trading on the New York Stock Exchange (NYSE) on May 24, 2018, under the symbol CGC.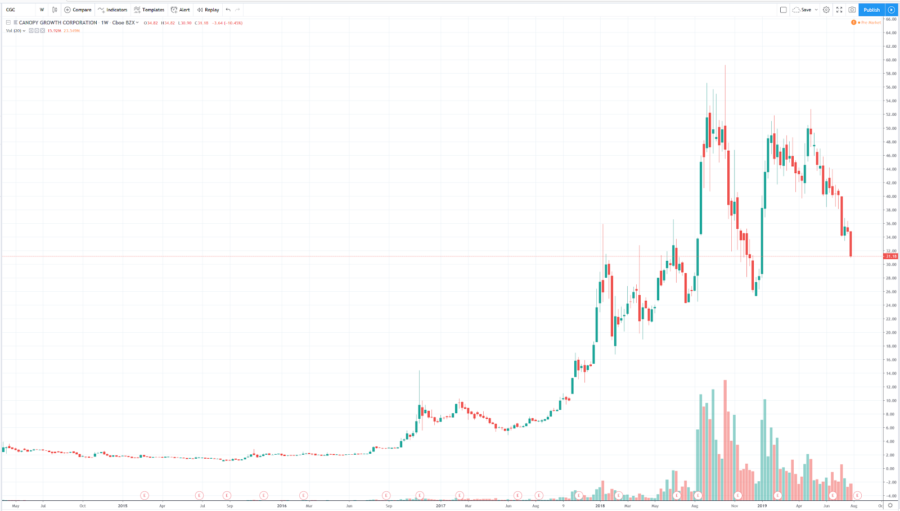 Future Outlook for Canopy Growth
CGC stock has come off significantly since late April 2019. The stock has fallen by almost 40% from its high and currently trades close to its low price for 2019 at just over $32 per share.
The downward trend in the entire sector has been in part due to rising cannabis inventory levels in Canada since the country legalized recreational use. The dried cannabis inventory in Canada has jumped to 264,000 kilograms from 115,000 kilograms since the country legalized the herb last October. This is double the estimated national consumption of 120,000 kilograms per year.
The supply situation with cannabis derivatives is not much better, as inventories of cannabis oil are currently up by more than 150% since legalization. This can put pressure on prices and affect producers' bottom line.
Despite the current product excess in Canada, it's probable that more countries will legalize the medical and recreational use of cannabis over the coming years. Additional viable markets could resolve the oversupply problem.
Another major factor involved in the valuation of Canopy Growth is its partnership with Constellation Brands. Analysts tend to differ on how much that strategic alliance could mitigate the adverse effects of supply-side market dynamics on CGC stock. The analyst consensus for CGC's quarterly earnings is a net loss of -$0.38 per share on revenue of $109 million.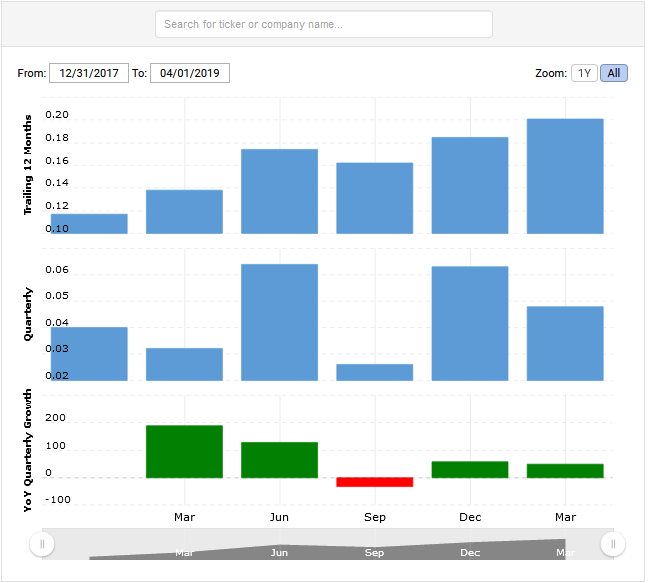 Why You Might Want to Buy It
Industry leader: Canopy Growth has asserted itself as a cannabis market leader featuring the industry's largest market capitalization, an ongoing partnership with Constellation Brands and yearly production in excess of 500,000 kilograms of dried cannabis flowers. The company sits at the forefront of a new industry and will probably remain a major player as the industry matures and consolidates.
International opportunities: The company gains a foothold in prospective markets outside Canada with operations started in 12 countries. As countries around the world continue advancing the legalization process, Canopy Growth is poised for representation on a commercial level in international cannabis trade. This includes opportunities with the U.S.
Long-term capital appreciation: CGC stock has considerably sold off in 2019. If the company remains a market leader as more markets open up and it begins to show consistent profits and revenue growth, investors can reasonably expect a decent long-term return on their CGC stock.
Considerations Before You Buy
Stock market, economic slowdown: Cannabis stocks may have defensive qualities during a market/economic downturn due to the herb's medicinal value but its unusually high volatility in the sector could make cannabis stocks react just as negatively as cyclical stocks in a downturn.
Industry oversupply: The current glut in cannabis for domestic consumption in Canada could negatively affect the company's revenues and stock price for some time to come unless new markets open up. The oversupply has been reflected in CGC stock's continued decline, down over –75% from its all-time high.
High stock price: Despite trades as high as $56 per share this year, CGC stock price of around $32 could seem somewhat pricey compared to Aurora Cannabis Inc. (NYSE: ACB) at just $6 per share or Charlotte's Web Holdings (OTCMKTS: CWBHF) at $21 per share. Since CGC stock has been under pressure and could continue to decline before better levels are seen, you may want to wait for the market to show signs of reversing before you purchase.
How You Can Buy Canopy Growth Stock Right Now
It's easy to buy CGC stock right now, especially if you already have a funded account open with a reputable online stockbroker. Navigate to your broker's trading platform or order entry page, enter the amount of CGC stock you wish to buy and the price you want to pay.
In most cases, you could leave the order open with your broker using a good 'til canceled (GTC) order, or you could limit your order to the length of one day's trading session. You can also buy the stock at the market or wait until it reaches a level you want and enter a market order then.
Don't have a stock brokerage account with a reputable online broker? Open and fund an account with a broker who has access to NYSE or TSX stocks to buy shares of Canopy Growth. How you buy CGC stock is just as important as where you trade, so make sure you pick the right broker.
Pick a Broker

Brokers differ in the services they offer, so knowing your needs will make your choice a lot easier after assessing a particular broker's offerings. For example, you might pick a broker like TD Ameritrade or Charles Schwab if you have limited experience in the markets and require educational resources and a user-friendly trading platform. 

On the other hand, you might want to open an account with Robinhood or Webull if you prefer a commission-free broker. Interactive Brokers could be a good fit for more experienced active traders who prefer advanced trading platforms, trade in multiple assets and pay low commissions.  

Try Out Different Demo Accounts 

Most online brokers offer clients a free demo or virtual account to test their trading platform and practice trading. You can open more than one of these accounts to compare different brokers' services and trading platform features. Practice trading CGC stock to get familiar with how the stock trades and decide which broker best suits your needs. You can develop and refine your trading strategy in these accounts.

Fund Your Trading Account

Whether you decide on a commission-free broker or a premium broker, you still need to deposit funds in a brokerage account to buy CGC stock. Deposit requirements vary from broker to broker, so check with your broker on the minimum amount of money it requires and supports. Deposit the right amount of funds to cover the amount of CGC stock you want to buy. 

Buy CGC Stock

You're ready to buy CGC stock after you open and fund a live account with a reputable broker. Become familiar with how to enter orders in your account. You might also want to watch the stock for a session or two to determine the best target level for your purchase using technical analysis. Most trading platforms have a charting function that you can use.
Best Online Brokers
Is CGC Stock a Viable Investment?
Historically, stocks in a new industry can trade with high volatility as the public's emotions vary with news releases. Their speculative nature can also make stock prices increase only to later crash and burn. We saw this with the early tech stocks during the dot-com bubble and when cellphones first appeared.
The cannabis industry is poised to grow internationally, which could solve the current glut of cannabis products in Canada that impacts Canopy Growth. New York has also given Canopy Growth a license to process and produce hemp.
The revenue impact of Canopy Growth's move into New York depends on how the FDA will regulate hemp-based products. CGC stock has already lost a significant portion of its market capitalization during its correction this quarter. Its partner, Constellation Brands, should defend its investment and mitigate further stock losses.
Patient long-term investors who remain bullish on the cannabis industry could decide that CGC stock is a good fit. Active traders may also like the high volatility associated with cannabis stocks like CGC.
Ready to build your investment strategy? Check out Benzinga's top picks for the best online brokers, how to start investing in stocks, and how to build an investment strategy.