Want to claim 6 FREE stocks? Head over to Webull to get started.
Intel Corporation has been a major innovator and driver of the latest information technologies since the late 1960s. The company has evolved to become the world's largest manufacturer of integrated circuits, motherboard chipsets and network interface controllers. Intel supplies processors to computer manufacturers such as HP, Dell and Lenovo, to name only a few. As a tech stock, Intel is a cyclical stock that typically experiences more price volatility than stocks in other economic sectors.
Main Takeaways: How to Buy Intel Stock
Pick a broker. We recommend Webull, E*TRADE or Ally Invest.
Open a demo account. Trade with virtual money before fund your account.
Fund your account. You usually can fund your account using a bank transfer, card or physical check.
Place an order for Intel stock.
All About Intel: Company and Stock History
Intel Corp. was founded in 1968 in Santa Clara, California. The company originally began making memory chips and was responsible for creating the world's first metal oxide semiconductor. Intel's initial public offering (IPO) happened in 1971 by selling shares at $23.50 on the Nasdaq Exchange, and the company's stock has since gone through 13 stock splits.
In 1993, Intel introduced the Pentium microprocessor, which marked a major expansion for the company by providing microprocessors for a number of PC manufacturers. Between 2009 and 2019, Intel bought 24 different companies that specialize in security, software, wireless, recognition and other technologies, which continued fueling the company's expansion.
Although Intel stock has come a long way from its original IPO price given all the stock splits, its ascent has not been straight up due to a number of factors. Adverse influences include the dot.com bubble, competition from other chip makers, flaws in some of their products and antitrust issues, which have all put pressure on Intel stock's price at some point in its history. The stock's biggest move took place in September of 2000 during the dot.com boom's bubble burst. Below is the twenty-year price chart for the stock.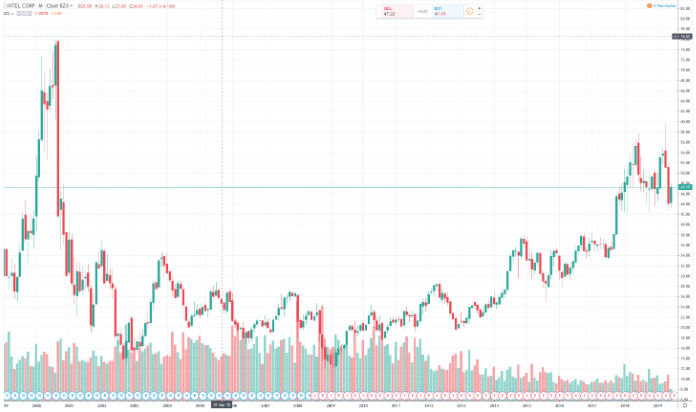 Future Outlook for Intel
Intel stock currently trades at the $55 per share level and is a component of the Dow Jones Industrial Average, as well as the NASDAQ 100 and 500 indices. The stock has had a roller coaster ride, especially since 1999, when the stock rallied sharply during the dot.com bubble, only to subsequently lose three-quarters of its highly inflated market cap in the ensuing downside correction.
In the last 10 years, Intel stock traded as low as $12.50 in January of 2009 in the wake of the 2008 global financial crisis and up to a high of $59.59 per share that it achieved in April of 2019. In addition to INTC stock trading cyclically with the rest of the stock market and business cycle, the stock's price is strongly affected by world semiconductor demand, current tech innovations and the position and market share of its competitors in the industry.
Most recently, Intel's stock price has been recovering from the ongoing coronavirus pandemic. As of January 2021, the semiconductor company's 52-week high is $68.09 and 52-week low is $43.61. Shares of Intel trade around $55 at time of publication.
Furthermore, Intel's financial results for its fourth quarter 2020 were released on January 21, 2021. For the fourth quarter, Intel reported adjusted earnings of $1.52 per share, beating the Wall Street estimate of $1.10. Quarterly sales grew to $19.9 billion, beating the estimate of $17.5 billion.
Intel stock currently trades at a price/earnings (P/E) ratio of 11.07, which is extremely low for a tech company. The low P/E indicates that the price of the stock could be undervalued if no other factors are considered. One reason for the low valuation of Intel stock could be the market's perception of Intel's difficulty competing with Advanced Micro Devices (AMD) and Nvidia in the latest generation of the chip market.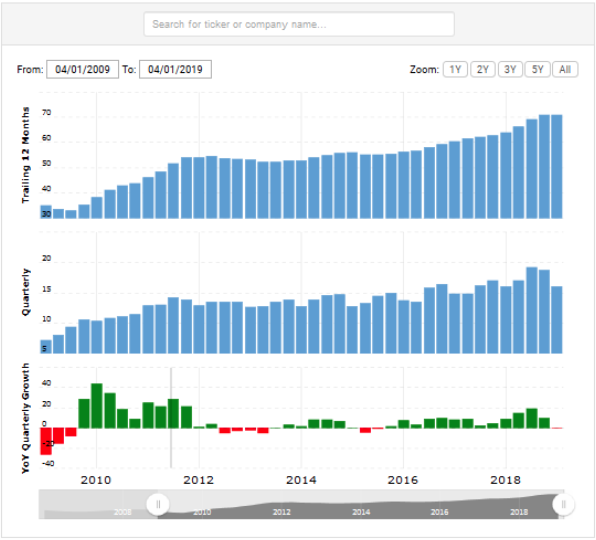 Why You Might Want to Buy It
Leader in a volatile industry: Despite competition from other semiconductor manufacturers, Intel has the advantage of technical innovations, market share and customer base. If the assessment of some analysts is correct, then Intel stock at current price levels could be an excellent opportunity for investors.
Historically undervalued: Intel stock only trades at roughly 11 times earnings, while the average P/E ratio for industry competitors is much higher. AMD trades at 44 P/E ratio and Nvidia at 85.
Considerations Before You Buy
Possible future stock market and economic downturn: As it did during the onset of the coronavirus pandemic, Intel could decline significantly during a market downturn.
Highly competitive environment: Intel's chips compete with AMD's. Also, Nvidia and Qualcomm are set to compete in the Adaptive Driver Assistance Systems (ADAS) market, which is already dominated by Intel's Mobileye. This could cost Intel even more of its market share in the industry.
Flaws in products: In January of 2018, 2 security vulnerabilities, known as Meltdown and Spectre, were detected that affect Intel x86 and AMD microprocessors, IBM power processors and several Advanced RISC Machine (ARM)-based microprocessors. Meltdown takes advantage of a condition inherent in the design of the affected CPUs and allows a process to run that bypasses normal privilege checks and gains access to the computer's operating system and other processes.
How You Can Buy Intel Stock
Intel stock can be bought through any reputable stockbroker with access to trade stocks on the Nasdaq (NASDAQ) exchange. If you plan to buy Intel stock for the long-term with a goal of capital appreciation and dividend income, then you might want to open an account with a discount broker. You'd save on commissions when you pick a discount broker, but you probably wouldn't get access to extras like research that you might get from a full-service broker.
Brokers with an online presence offer different services and fees. For example, some brokers charge customers an inactivity fee for idle accounts, while financial platforms such as Webull offer stock brokerage free of charge. Keep in mind that how you buy Intel stock is just as important as the broker you choose, so make sure you pick the right broker for your situation.
Pick a Broker

Know your needs: Some brokers offer advanced trading platforms, access to international markets and other tradable assets. Other brokers provide educational material for clients with limited experience. Certain brokers might able to fill your needs better than others, so determine what your needs are before you choose. 

Open a Demo Account 

Many online stock brokers offer a risk-free virtual or demo account so you can trade with virtual money, which provides a great way to assess a broker's trading platform and execution services. Opening several of these accounts with different brokers will give you insight into their services and help you in your selection. 

Fund an Account

Once you've picked a broker and have had the chance to assess its platform, you can now fund your account to make your Intel stock purchase. Methods you can use to fund an account can vary from broker to broker, so make sure you meet all of the requirements for funding an account with your chosen broker. 

Start Buying Intel Stock

Once you have opened a live account with a broker, it's now time to buy your INTC stock. Ideally, you could watch Intel stock to determine an optimum buying price using technical analysis. Place an order at the price and for the amount of stock you wish to purchase. 
Best Online Stock Brokers
Is Intel Stock for You?
Tech stocks generally trade in a volatile manner, so if you don't like roller coasters, you might want to pick a more defensive economic sector to invest in. Nevertheless, if you aren't very risk-averse and have a positive outlook on both the U.S. economy and Intel's business, then Intel might be a good investment since it has a low valuation relative to the rest of its sector.
Want to learn more about trading stocks? Check out Benzinga's guides to the best online brokerages, the best investing courses and how to buy stocks for beginners.