Want to claim 6 FREE stocks? Head over to Webull to get started.
Ever play video games on an XBox console? If so, you can thank Nvidia, the computer technology company hailing from Santa Clara, California.
Nvidia is the chief rival to Advanced Micro Devices (AMD) in manufacturing graphics processing units, but the company has a number of different initiatives, including the exploration of artificial intelligence.
Nvidia has been one of the NASDAQ's hottest stocks in the last few years, going from $25 to $290 in just over two and a half years. Despite this incredible rise, many analysts think the stock has more room to run as it sits only a few dollars off its all-time high.
What is Nvidia?
In 1993, three computer programmers sat down to discuss the future of their industry. Jensen Huang, Chris Malachowsky, and Curtis Priem all came from different backgrounds with different companies, but they shared a few ideas about where computer technology was headed.
Huang was a former designer with AMD, while Malachowsky and Priem were engineers with Sun Microsystems. All three agreed that graphics-based computing was going to be the next big thing and founded the company to push toward this goal.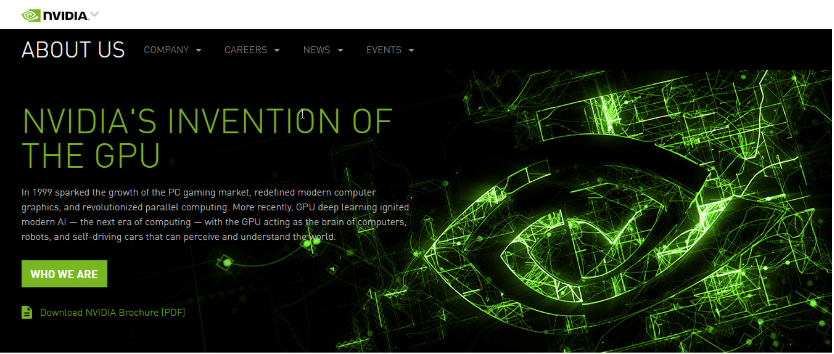 Nvidia's founders believed that computers would evolve to become potent gaming and media consumption machines. In 1999, they presented the world with their first graphics processing unit (GPU), a special type of circuit that greatly increased the speed of image rendering on computer systems.
Called the GeForce 256, this GPU had the capability of processing 10 million polygons per second. By increasing the graphic manipulation speed, Nvidia set itself up to be a player in several industries, especially game consoles and computer workstations.
Today, Nvidia technology can be found everywhere. They sell products designed to perform the following tasks:
Consumer-oriented graphics processing

Professional design and content creation

Mobile processing

High-end image rendering for scientific industries
Nvidia has also been delving into artificial intelligence and recently made headlines when an analyst at Evercore stated he was on the verge of a breakthrough with his deep learning platform.
History of Nvidia Stock
Nvidia filed its IPO on January 22, 1999 (shortly before the release of its first graphics processing unit) with shares priced at $12. Unfortunately, the IPO came to market only a few months before the beginning of the dot-com meltdown, which sent many tech stocks plummeting without recovery for several years.
By October of 2002, Nvidia shares were trading below $3. But unlike many of its computer-driven competitors, Nvidia survived the dot-com bubble burst and continued to grow and innovate.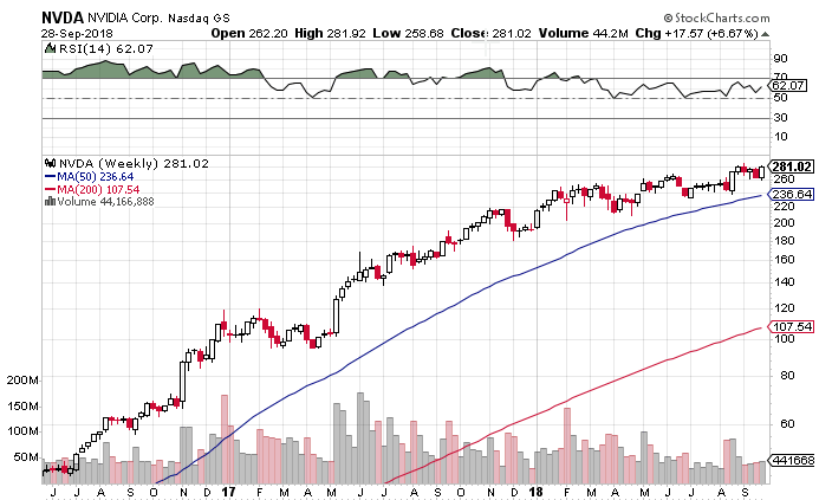 After pushing close to the $40 mark in November of 2007, Nvidia shares were hit again by the Great Recession and prices receded back to the single digits. After another recovery, the stock traded sideways for a couple of years until the company announced its first ever dividend in November of 2012.
Four more years of sideways trading followed until the calendar flipped to 2016 and Nvidia's stock exploded. Between February of 2016 and February of 2017, Nvidia stock went from $24.75 per share to $113.62 per share.
It had doubled again to $230 by January of 2018 and today sits around $290. If you had purchased $10,000 worth of Nvidia shares at the start of 2016 and didn't sell, you'd be sitting on over $117,000 today.
Pros of buying Nvidia stock
Here are a few reasons why you might consider adding Nvidia stock to your portfolio:
Consistency: Nvidia is still run by founder and CEO Jensen Huang and always scores top marks as one of the best places to work in the tech industry.
A top name in its sector: The company has become the powerhouse of the semiconductor industry with its strong product line and frequent earnings beats. Nvidia GPUs can be found anywhere from video game consoles to automated systems.
Strong future ahead: Nvidia isn't just content dominating the semiconductor space. They're heavily invested in a GPU-based deep learning system, which is designed to help computers parse data in the same manner as human beings. Between this is and the exploration of driverless cars, Nvidia could in making several breakthroughs in a short period of time.
Cons of buying Nvidia stock
Thinking of buying Nvidia shares? The outlook is good, but not entirely rosy:
Intensified competition: Rivals like AMD have always been a challenge to Nvidia's superiority, but their advances into deep learning and driverless cars also put them in the crosshairs of companies like Google, Uber, and Qualcomm.
Expensive share price: On a fundamental basis, Nvidia shares are selling at a high premium with a forward P/E over 36 and price-to-book value near 20.
How To Buy Nvidia Stock
If you've decided to add Nvidia stock to your portfolio, follow these steps to acquire shares:
Decide how much you want to invest in Nvidia

The first step in any investment plan is deciding how much you want spend. Putting too much money into any one stock can be risky, even with a stock performing as well as Nvidia's. Decide what percentage of your portfolio should be made up of Nvidia shares before going to your brokerage.

Find a broker with shares available

You'll need an account at a brokerage firm to buy Nvidia shares. On the company's investor website, lots of information about Nvidia's finances is available, along with contact info for the board of directors.

But sadly, you cannot purchase shares directly from the company. If you're having trouble deciding on a brokerage, feel free to check out Benzinga's list of the best ranked online brokers.

Place your order

After you've decided how much to invest and which broker you'll get Nvidia stock from, it's time to place your order. Choose from either a limit order or a market order to acquire shares from your broker. Note that a limit order will only go through once your specified price is reached. With a market order, your trade will go through immediately at the current market price.
Best Online Brokers
Here's a short list of our picks.

Best For
Socially Responsible Investing
1 Minute Review
Ally Invest is a comprehensive broker offering easy access to domestic markets. Combining a wide range of charting tools with an easy-to-master platform, Ally is a solid choice for both new and experienced investors. Ally's mobile app is particularly impressive for investors who already bank with Ally, offering seamless compatibility between accounts. While more experienced investors might be disappointed with Ally's beginner-oriented educational center, they're bound to love Ally's wide range of technical tools and rock-bottom pricing.
Best For
Investors who already bank with Ally and want to streamline between accounts
Beginners looking for easy-to-follow educational tools
Stock investors looking for affordable access to low-priced options and commission-free stock trading
Pros
Streamlined interface that's easy to use and quick to master — even for beginners
Wide range of unique tools that makes analyzing securities simple
Seamless integration between mobile and desktop offerings, especially for Ally Bank account holders
Diversified managed investment portfolios with a low minimum and no advisory fees
Impressive ETF screening tools that make it easy to find your next fund
Cons
No fee-free mutual funds
No access to futures trading

Commissions
$0
$6.95 for OTC Stocks
1 Minute Review
This publicly listed discount broker, which is in existence for over four decades, is service-intensive, offering intuitive and powerful investment tools. Especially, with equity investing, a flat fee is charged, with the firm claiming that it charges no trade minimum, no data fees, and no platform fees. Though it is pricier than many other discount brokers, what tilts the scales in its favor is its well-rounded service offerings and the quality and value it offers its clients.
Best For
Novice investors
Retirement savers
Day traders
Pros
World-class trading platforms
Detailed research reports and Education Center
Assets ranging from stocks and ETFs to derivatives like futures and options
Cons
Thinkorswim can be overwhelming to inexperienced traders
Derivatives trading more costly than some competitors
Expensive margin rates

1 Minute Review
E*TRADE is an online discount trading house that offers brokerage and banking services to individuals and businesses. One of the first brokers to embrace online trading, E*TRADE not only survived both the dot-com bubble and Recession — it thrived. You can choose from two different platforms (one basic, one advanced). E*TRADE is a suitable broker for traders of most skill levels, whether you want to buy mutual funds and hold them for decades or dabble in options swing trading. E*TRADE offers a library of research and education materials to help you out.
Best For
Active traders
Derivatives traders
Retirement savers
Pros
Sophisticated trading platforms
Wide range of tradable assets
Exceptional customer service
Cons
Limited currency trading
Higher margin rates than competitors
No paper trading on its standard platform
Final thoughts
Nvidia has been one of the NASDAQ's best stocks since the start of 2016 and currently shows no signs of losing steam. The company has a bright future in several different technology sector areas, including artificial intelligence. If Nvidia makes a breakthrough with its AI or deep learning platforms, the stock could move even higher.