Did you know most of our readers choose The Hartford for their professional and business insurance needs?
You probably already know that a life insurance policy can help your family cover end-of-life expenses and living costs after you pass away. But did you know that corporate life insurance also exists for important businessmen and women? Key person insurance is a type of life insurance policy that a company can purchase on its own top executive to financially compensate the company if the key person dies or cannot continue their work.
Our guide will help you learn more about key person insurance and how you can explore your coverage options.
Best Key Person Insurance
Most major business insurance providers offer key person insurance alongside a host of additional policies. These companies also make it exceptionally easy to claim a quote online in just a few minutes. Explore a few of our top choices for key person insurance below.
coverwallet

1 Minute Review
Shopping for business insurance can be a tedious process. It takes time to collect and review quotes and coverage unless you visit CoverWallet. CoverWallet, an Aon company, makes it easy to get quotes from multiple insurance providers.
With CoverWallet, you can start by talking with an insurance advisor or start directly with quotes. You can get quotes from multiple reputable insurers, including Hiscox, Chubb and Progressive. Choose from a wide range of coverage options to protect every area of your business, including workers' compensation, general liability and commercial property insurance.
Once you decide on your insurance coverage, you can manage your policies through MyCoverWallet. This online dashboard allows you to send copies of your insurance certificates when needed, file claims and pay premiums. It keeps your policies organized and allows you to reach out to an expert at any time.
CoverWallet also offers extensive educational resources. You can review its recommended coverage by industry. You can also dig into more specific information based on your industry, location, number of employees and annual revenue.
The one drawback to the CoverWallet is that it doesn't have a mobile app. You can still access the site through your mobile browser and you can call any time for assistance. Overall, CoverWallet makes it easy to shop for and buy business insurance, and it's an excellent fit for small businesses and the self-employed.
Best For
Self-employed
Start ups
Small to medium businesses
Pros
Can get multiple quotes easily
Can learn about recommended insurance for your industry
Offers many types of insurance
CommercialInsurance.net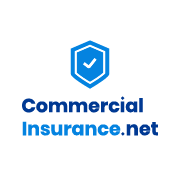 get started
securely through CommercialInsurance.net's website
1 Minute Review
Shopping for commercial insurance can be a daunting task. You need to contact multiple insurance companies, ask each for quotes on the different types of insurance and then finally compare quotes to make the best choice.
Or you could simplify things and visit CommercialInsurance.net. With CommercialInsurance.net, you can easily get quotes on the insurance you need from multiple reputable insurance companies like Progressive, The Hartford and Liberty Mutual Insurance. You can get a quick quote online or give CommercialInsurance.net a call. 
CommercialInsurance.net can connect you with all types of business insurance, including general liability, commercial property and workers' compensation insurance. It's best for business owners who want to save time and money by getting insurance quotes from multiple providers with 1 quote request.
Best For
Busy business owners
Comparing insurance policies
Pros
Easy quote process
Quotes from multiple insurers at once
Cons
No mobile app
No tools for managing multiple policies from different providers
Types of Key Person Insurance
Though this type of coverage is a singular type of business insurance, there are a few different subcategories of coverage. A single key person insurance policy might include 1 or all of the following common coverages.
Life Insurance
The most common type of key person insurance protection is a life insurance policy on the key person. To qualify for key person insurance, a company must register a life insurance policy for a particularly important person working at the company.
The person who the company takes the policy out on must have knowledge, experience or leadership skills crucial to the development and goals of the company. Some examples of employees that may qualify for a key person insurance policy may include:
An employee with indispensable and irreplaceable knowledge of a company's product (some examples might include a lawyer in charge of running his firm and handling multiple cases or a scientist who is leading a drug development project)
A key employee whose death can quickly lead to the end of a company (for example, a top-ranking salesperson)
Business partners who want the right to buy out the business over shareholders in the event of a single partner's death
Most policies are term life insurance policies. When you sign onto a term life insurance policy, your policy is valid for a set "term" of years. For example, if you have a policy with a 20-year term, your policy is active for 20 years.
If the key person dies during this 20-year period, the company will receive a death benefit equal to the amount specified in the policy. If the person outlives the policy, the policy expires and no death benefit is awarded.
In some cases, you may be able to purchase a "whole life" or "permanent" key person life insurance policy. In this case, the policy is active for the entirety of the insured party's life, and a payout is guaranteed upon his or her death. However, this is a rare offering, as the guaranteed payment typically makes whole life insurance coverage prohibitively expensive for most businesses.
Disability Insurance
You may also want to apply for disability insurance for important people in your company. As the name suggests, key person disability insurance compensates a business if the insured party becomes disabled or is otherwise unable to perform his or her duties. The process of applying for key person disability insurance is very similar to applying for a key person life insurance policy.
Key person disability benefits go into effect after the insured party becomes sick or injured. In this event, the insurance company providing the policy issues a monthly benefit to the company to cover his or her absence. This coverage might have a limited term or a limited benefit amount — when either limit runs out (or if the key person is able to return to their role) the benefit payments end.
Cost of Key Person Insurance
There are a very wide range of factors that contribute to the price you'll pay for key person insurance. Some of the largest factors that will influence your monthly cost may include:
The type of policy you purchase. Whole life insurance policies have a guaranteed payout, while term life insurance policies don't. For this reason, you can expect to pay between 5 times and 10 times more per month for a whole life insurance policy.
The gender of the key person. Women tend to live longer than men, which makes them less risky for insurance providers. If your key person is a woman, you'll likely pay less for insurance.
The key person's health. The health of your key person is one of the most important factors in determining the price you'll pay for insurance. If your key person is living with a serious health issue, you can expect to pay significantly more for coverage.
The key person's age. Older men and women are more likely to pass away than younger men and women, regardless of health status. This means that, as your key person ages, the price you'll pay for insurance will rise as well.
The key person's hobbies. If your key person has riskier hobbies (like mountain biking or scuba diving), they may be more likely to die or become disabled during your policy term. This means that you'll pay more for insurance in these instances.
Your industry. Some industries are inherently riskier than others. If you work in a high-risk industry (like mining or logging), you'll pay more for insurance.
Your company size. As a company's reputation and size increases, it requires a larger payout in the event that a key person loses his or her life. The larger and more well-known your company, the more you'll pay for insurance.
Your policy benefit. When you sign onto your life insurance policy, your insurance provider will set a predetermined death benefit. If you need to file a claim with your insurance provider, you'll receive the death benefit. The higher the death benefit, the more you'll pay each month for your insurance.
Estimates for the average key person insurance policy range from about $100 to over $2,000 per month. With such a wide range of estimates, it's important to collect a few quotes from competing insurance providers before you choose where you'd like to get coverage.
How Key Person Insurance Works
Key person insurance works almost identically to standard term life insurance policies. The exception is that, instead of the family or spouse, the company is the beneficiary of the policy. This means that if the key person loses his or her life during the policy's term, the company receives the death benefit, usually as a lump sum.
Like a standard life insurance policy, there are very few limitations on how beneficiaries of a key person insurance policy can use their death benefit. Some of the most common uses of death benefit payouts include:
Funding recruitment and training. You can use the benefits from your key person insurance to finance recruitment efforts to replace the man or woman who was lost. You can also use the funds to train a person already working for your company to fill a new role.
Liquidity. In many cases, a key person's skills or expertise are crucial to the longevity of the business. A key person life insurance policy can add a crucial layer of cash liquidity to business operations in the months or years after a key person's passing.
Business buyouts. If multiple people own a company, key person insurance can be purchased for each of the owners and structured in a way that their successor automatically "buys out" their shares at the time of death. This can be especially beneficial for spouses and children who want to ensure that they retain majority control of a corporation after a key person's death.
There are a few situations when this type of coverage won't offer you a payout, even if the insured party dies during the policy term. Some examples can include:
Situations when you've fallen behind on premium payments
Fraud (for example, failing to disclose an underlying medical condition)
Suicide (during contestability period)
During the 1st 2 years of your life insurance policy, your policy will include a clause called a "contestability period." If you make a claim during this period, the insurance company will conduct a thorough investigation to determine if there was fraud or misrepresentation on your application.
If they find that you were intentionally dishonest when you applied for coverage, you won't receive a benefit. Your contestability period also usually limits payouts for people who take their own life.
Safeguard Your Business
If you think this type of coverage is right for your business, look no further. To learn more about your coverage options, start by comparing a few quotes right here on Benzinga.