Did you know most of our readers prefer iTrust Capital for their cryptocurrency IRA needs? Check them out now!
For individuals looking to build their crypto wealth, a crypto IRA may be a good way to do so. Cryptocurrency IRAs allow you to avoid capital gains tax, so long as you keep your investments in your IRA account. Although cryptocurrencies are volatile investments, the asset class has outperformed almost any other investment over the last decade. If you're a long term believer in a decentralized future, you may want to consider opening an investment retirement account with a platform that gives you access to cryptocurrency.
Quick Look: The Best Crypto IRAs
Best Cryptocurrency IRAs
Now that you know the general rules and limitations of the cryptocurrency IRA, let's take a look at the best of the breed. There are several options on the market which you can compare –– these platforms typically have higher fees than regular crypto exchanges, but the tax benefits make the tradeoff well worth it.
1. iTrustCapital
iTrustCapital is the leading digital asset IRA trading platform that allows you to directly buy and trade cryptocurrencies and physical gold in real-time through their retirement accounts.
They have completely transparent pricing with crypto being a 1% trade fee and gold $50 over spot. They also provide the following:
IRA setup at iTrust Custodial Services
Facilitation of any transfers to your IRA
IRS and tax reports by iTrust Custodial Services
Unlimited storage with institutional custody partners
Platform support and maintenance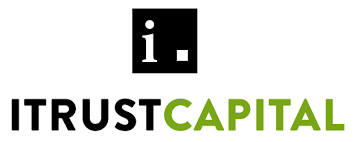 Best For
Beginner cryptocurrency investors
1 Minute Review
iTrustCapital is a self-directed IRA provider that gives you the opportunity to invest in cryptocurrencies, gold and silver through your retirement account. iTrustCapital focuses on providing investors with a straightforward and easy-to-understand platform, which can be a major asset if you've never bought or sold alternative investments in the past. 
When you reach retirement age, iTrustCapital allows you to choose whether you'd like to take your disbursements in cash or in the assets you've invested in. Though the platform does offer a limited range of cryptocurrencies when compared to brokers like Coinbase, its simple structure and unique IRA offerings make iTrustCapital a great place to invest.
Best For
Investors who want to add gold, silver or cryptocurrencies to their IRA
Those who are interested in taking a long-term approach to cryptocurrency or metal investing
Beginner cryptocurrency investors
Pros
Straightforward platform allows you to buy and sell assets in a few minutes
Orders clear within 5 minutes
24/7 order placements and portfolio monitoring services
Both live chat and phone customer service service available
Cons
Limited number of cryptocurrencies to buy and sell
No mobile app currently available
2. Broad Financial
Broad Financial is a flexible platform that allows you to self-direct your IRA on the trajectory that you prefer. This crypto IRA trust has flat fees—there are no asset-based fees or transaction fees. You have an unlimited selection of tokens to invest in, and you can choose any exchange you like to make these trades.
The fee structure features:
$1195 one-time setup fee
$100 one-time custodian setup fee
$380 annual maintenance fee (payable in $95 quarterly installments)
Free lifetime customer support
Tax-advantaged accounts
A significant advantage that helps Broad Financial stand out from the crowd is that you can hold your private keys. When you can hold your private keys, you gain certain benefits that the competition cannot provide, like:
Choosing the storage format you prefer
Using an existing wallet
Customizing your security for your own peace of mind
You can also invest in:
Real estate
Private loans
Precious metals
Small businesses, etc.
With this level of flexibility, you can move your retirement funds to the places you prefer, saving you both time and energy while increasing your net worth.
3. My Digital Money
My Digital Money is a U.S.-based crypto trading platform that partners with My Equity Trust to provide self-directed crypto IRA products. With a one-time setup fee of $50, you can invest with your IRA funds and earn tax-free or tax-advantaged profits that bolster your retirement portfolio.
You can open a range of IRA accounts, including:
Simple IRA
Traditional IRA
Roth IRA
Simplified Employee Pension Plan (SEP) IRA
Set up a cash account to start trading and then the MDM platform allows you to trade away from the prevailing markets, reducing risk and helping you purchase at the best price possible. You can also use limit orders that buy or sell at specific prices or after certain price changes.
You have complete control of your IRA funds, and you can always trade crypto independent of your IRA on the same platform, if you so choose.

get started
securely through My Digital Money's website
Best For
Crypto IRA Investors
1 Minute Review
My Digital Money (MDM) is a U.S.-based crypto-trading platform that partners with Equity Trust, a leading provider of self-directed IRAs that has over $20 billion in assets under custody. MDM offers traders considerable advantages over many other cryptocurrency platforms. For example, you can buy digital assets and hold them in an individual retirement account (IRA) or crypto IRA. You can also actively engage in crypto trading in an individual cash account. Your digital assets are well protected with military-grade security, and you can contact MDM's excellent customer service staff who can save you a considerable amount of time and money if a problem arises.   
Best For
Active crypto traders
Crypto IRA investors
Beginning crypto traders
Pros
Combined Bitcoin and cash trading
Cryptocurrency IRA account
Military-grade security
No monthly fees
Practice trading account
4. Bitcoin IRA
Bitcoin IRA is a full-service solution that allows you to invest in bitcoin, ethereum, ripple, litecoin, bitcoin cash and ethereum classic with your IRA. The firm works to make the complex process of crypto investing simpler and safer.
Your digital assets are stored and insured for up to $100 million with BitGo Trust, which is powered by BitGo Inc.'s technology. BitGo Inc. is the world's largest processor of on-chain bitcoin transactions, processing 20% of all global Bitcoin transactions and holding over $2 billion in assets in wallet.
Whether you need help with a rollover, traditional or Roth IRA—it only takes a few minutes to open an account with Bitcoin IRA.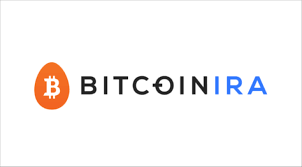 Best For
New bitcoin investors
1 Minute Review
Bitcoin IRA provides a solution for those looking to take their retirement account outside the traditional market. It partners with BitGo Trust to facilitate the setup of an individual retirement account (IRA) and a digital wallet to hold and trade cryptocurrency. Bitcoin IRA offers a proprietary always-on, self-directed trading platform that empowers you to invest in your future. In addition to digital currency, you can also use Bitcoin IRA to purchase gold, another popular alternative asset for savvy investors.
Best For
New Bitcoin investors who have a handle on their overall financial strategy
People who have room in their budget for a $100 monthly contribution for an easy set-and-forget savings and investment strategy
Investors who can tolerate high levels of risk associated with trading crypto and who are able to hold precious metals investments for at least 10 years
Pros
Great rollover options
Investments stored offline for greater security
Easily create an account and digital wallet in under 3 minutes
24/7 trading platform
Cons
Due to U.S law, cannot transfer existing cryptocurrency holdings into a Bitcoin retirement account
No financial advisory or planning services
5. BitIRA
Most crypto IRA companies take no responsibility for the security of your crypto. BitIRA turns this trend on its head and offers end-to-end insurance for your account.
You also get true cold storage for your crypto — it's kept on a hard drive in a vault that is physically guarded around the clock. You get this protection along with praiseworthy customer service that will make you feel comfortable even if you have never invested in crypto before.
The selection of cryptocurrencies currently available with BitIRA includes Bitcoin, Bitcoin Cash, Litecoin, Ethereum Classic, Ethereum and Ripple.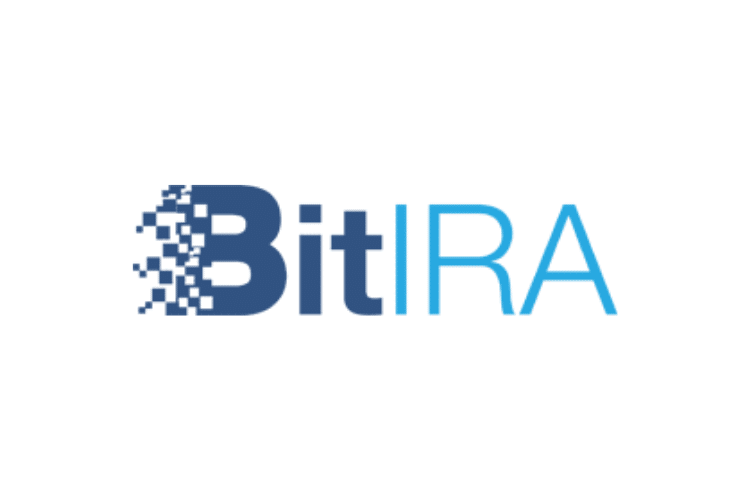 Best For
Tax-deferred gains
1 Minute Review
BitIRA combines the best of tradition and innovation with its Bitcoin IRA platform. You can secure your financial future by funding your retirement account with cryptocurrency and other alternative assets. BitIRA brings institutional, quality retirement accounts to alternative asset investors.
Best For
Long-term investors
Alternative asset investors
Diversification of your retirement account
Those experienced in cryptocurrency investment strategy
Pros
Fully-assisted setup, account rollover and funding process
Cold storage wallet to secure your funds offline
Tax-deferred gains
Bitcoin and other crypto protected against inflation by several key factors, reducing risk of devaluation and debasement
Cons
Potentially long waiting period between account set-up → funding → ready to invest
High minimum investment
How Crypto IRAs Work
A crypto IRA falls under the umbrella of self-directed IRAs. Crypto's volatility and looser regulatory structure likely scare investment custodians away from accepting responsibility for consistent returns.
Most financial institutions brand their crypto IRAs with the bitcoin name because of bitcoin's popularity. There are IRA investment opportunities available in other major coins including Ether, Litecoin, XRP and bitcoin cash. They usually have higher fees associated with them than traditional IRAs, but it may be well worth it to avoid capital gains taxes.
The average crypto IRA will have a holding fee, minimum monthly account fee, establishment fee and fees for purchasing assets and fund transfers. Traditional IRA accounts generally do not have any establishment or monthly maintenance fees.
Within an IRA designation, cryptocurrency accounts are automatically subjected to regulations they would otherwise avoid. IRA contribution limits apply to crypto IRAs as well, for example. Investors are also required to purchase the cryptocurrencies in an IRA from a designated firm. These firms use their monopoly to charge fees for their involvement.
Additionally, crypto IRAs can only be traded during standard market hours. The crypto market is 24/7/365, so the value of an IRA can change significantly over a weekend while leaving the investor with no recourse. Crypto within an IRA account is subject to capital gains taxes as well.
Benefits of Crypto IRAs
Cryptocurrency IRAs incentive investors to hold cryptocurrency over the long-term. If digital assets continue to see similar levels of adoption, then holding crypto for the long-term may be a great investment strategy that could outperform traditional assets. Plus, crypto IRAs have several tax benefits over investing through a cryptocurrency brokerage or exchange. Given the potential for abnormally high returns, these tax savings make it well worth it to invest in digital assets through a crypto IRA.
Trade Cryptocurrency
If you want to trade crypto while holding your IRA, you need a good trading platform. Some things to consider when choosing where to trade crypto are the platform's security, altcoin offerings and customer support. Some platforms, like Gemini, allow you to earn interest on your digital assets. This is a great way to accumulate more cryptocurrency over time without needing to invest more into your trading account. Here are a few of the best to consider:

1 Minute Review
Gemini is a cryptocurrency exchange and custodian that offers investors access to over 100 coins and tokens. Founded in the US, Gemini is expanding globally, in particular into Europe and Asia. Offerings include both major cryptocurrency projects like Bitcoin and Ethereum, and smaller altcoins like Orchid and 0x.
Gemini is 1 of the only brokers with multiple platform options based on skill level. New investors will love the streamlined interface of Gemini's mobile and web apps, while advanced investors might appreciate all the tools that come with ActiveTrader. 
In addition to a host of platform choices, Gemini users also have access to insured hot wallets to store tokens without worrying about digital asset theft. Learn more about what Gemini can do for you in our review.
Best For
New investors looking for a simple mobile and web app
Day traders looking to use technical analysis tools
Users looking for a 1-stop-shop to buy, sell and store all of their cryptos
Pros
Easy and quick signups — can get started in as little as a 5 minutes
Multitude of platforms to accommodate traders of all skill levels
Hot wallets include insurance to protect your from theft and hacking attempts
Cons
Charges both a commission and a convenience fee for users buying and selling through the desktop or mobile app
Disclosure: eToro USA LLC; Investments are subject to market risk, including the possible loss of principal. Virtual currencies are highly volatile. Your capital is at risk.
1 Minute Review
eToro is headquartered in Cyprus, England and Israel. A major eToro plus is its social trading operations, which allows new clients to copy trade the platform's best performers. Its social trading features are top notch, but eToro loses points for its underwhelming research and customer service features.
Best For
Investors looking to CopyTrade other traders
Simple user interface
Pros
Several major cryptocurrencies and altcoins
Expansive network of social trading features
Large client base for new traders to imitate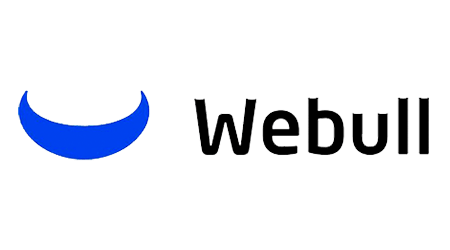 1 Minute Review
Webull, founded in 2017, is a mobile app-based brokerage that features commission-free stock and exchange-traded fund (ETF) trading. It's regulated by the Securities and Exchange Commission (SEC) and the Financial Industry Regulatory Authority (FINRA).
Webull offers active traders technical indicators, economic calendars, ratings from research agencies, margin trading and short-selling. Webull's trading platform is designed for intermediate and experienced traders, although beginning traders can also benefit.
Webull is widely considered one of the best Robinhood alternatives.
Best For
Active traders
Intermediate traders
Pros
No charges to open and maintain an account
No account maintenance fees or software platform fees
Intuitive trading platform with technical and fundamental analysis tools
Can You Buy Crypto In a Roth IRA?
Unfortunately, if you already have a Roth IRA, it's unlikely that you'll be able to buy bitcoin or cryptocurrencies with it. Most investment retirement accounts for cryptocurrencies are self-directed, and you'll likely need to open a new IRA account specifically for cryptocurrency investing, as most traditional IRAs don't support cryptocurrency. Alternatively, you may want to wait until cryptocurrencies are added to traditional Roth IRAs. However, this may be far in the future and Bitcoin may be much more expensive by the time this happens.
Retiring off Cryptocurrency
If you are looking for a way to inject growth potential into a long-term portfolio, holding a crypto IRA is a viable option. Crypto may also be a good last-minute hedge against inflation or low-interest rates for older people who are about to retire. However, remember that cryptocurrencies are inherently volatile, so if you're looking to preserve wealth (as opposed to growing wealth), you should consider a traditional retirement account. While it may be good to have some exposure to crypto as a retiree, it certainly shouldn't be your only investment.
It may be a bit premature to put everything into crypto even under the tax haven of the IRA. However, it may also be time to take a serious look at how this market can make your golden years even more fruitful.
Frequently Asked Questions
Can you put bitcoin in an IRA?
Absolutely. Through a crypto IRA company, you can hold Bitcoin and many other major cryptocurrencies in an IRA account. This account is subject to the same rules and has the same advantages of an IRA that holds fiat currency.
Answer Link
Holding crypto always comes with an added degree of risk. Reputable crypto IRA companies partner with a professional custodian for added security, but most of them assume no primary legal responsibility for your holdings.
Answer Link
Continue reading: BEST RETIREMENT ACCOUNTS