Did You Know We Have A Huge Oversupply Of Cheese?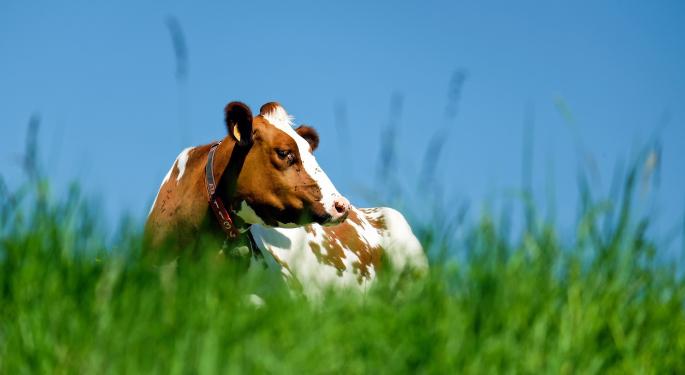 There is a huge oversupply of cheese in the U.S. to the point that every single person in the country would need to consume an extra three pounds to work it off. There's also the oversupply of milk.
The Wall Street Journal noted that America's dairy farmers could produce 212.4 billion pounds of milk this year, marking the highest amount in history. Most of the milk is being sold to cheesemakers who are taking advantage of low input prices and freezing excess supply for the time being.
In fact, commercial cold-storage freezers held a record 1.19 billion pounds of cheese at the end of March, up 11 percent compared to a year ago.
Farmers Are In A Pinch
Angie Setzer, Vice President of Grain for Citizens, spoke to Benzinga and offered her expert take.
"Honestly though, this is a real issue on the pricing side for farmers throughout the country," she said. "When the dollar was weak and supplies were low many growers were told that high prices were here to stay, we had a growing population to feed and it was their duty to do so. Unfortunately there were many growers from around the world hearing the same thing."
Setzer continued that while the oil industry has the benefit of idling a well or slowing down production, once a farmer commits to increase production there is little that can be done to slow down and "must do what he/she can to weather any sort of low price storm."
She noted that what's happening in the dairy industry "concerns" her as some of her clients are saying the price of milk is cheaper today than it was in the early 1980s. Her clients noted that cows "aren't worth anything" and that farmers are "better to just keep on milking them and hope things turn around."
"In the meantime though it will be interesting to watch how lenders work with farmers to make it through this pinch," she concluded. "Low prices of course cure low prices, but the waiting for that cure is always the hardest part."
View Comments and Join the Discussion!
Posted-In: Angie Setzer cheese Cheese Prices Dairy FarmersCommodities Exclusives Markets Media Best of Benzinga