Can Microsoft Corporation Win The Retail Race With New Stores?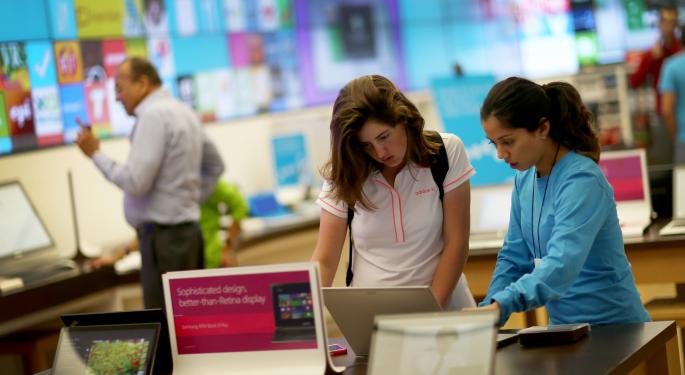 New Microsoft Corporation (NASDAQ: MSFT) retail outlets are cropping up all over the place.
The Windows maker will open several new locations next month, including a store in Dallas, Texas on November 8 and another in Bethesda, Maryland on November 22.
The expansion will continue in 2015 when the company opens its first store on Fifth Avenue in New York City.
"I think this is proof that Microsoft isn't giving up on its retail strategy," Patrick Moorhead, president and principal analyst at Moor Insights & Strategy, told Benzinga. "It's a smart thing. I wish they had done it two years ago."
Related Link: Apple Store vs. Microsoft Store
Profit Or Promotion?
According to The Wall Street Journal, Upper Fifth Avenue commands an average asking rent of $2,749 per square foot. Microsoft can afford the space, but its expense could reduce the store's profit potential.
Brett Golden, president and co-founder of The Chart Lab, told Benzinga that very few retailers make money on Fifth Avenue.
"The only store that's profitable might be the Apple one in that area, but Louis Vuitton and all the major brands that have stores in that area are break-even," said Golden. "Except Tiffany & Co. because they own the building. It's a loss-leader. It's purely to drive brand recognition."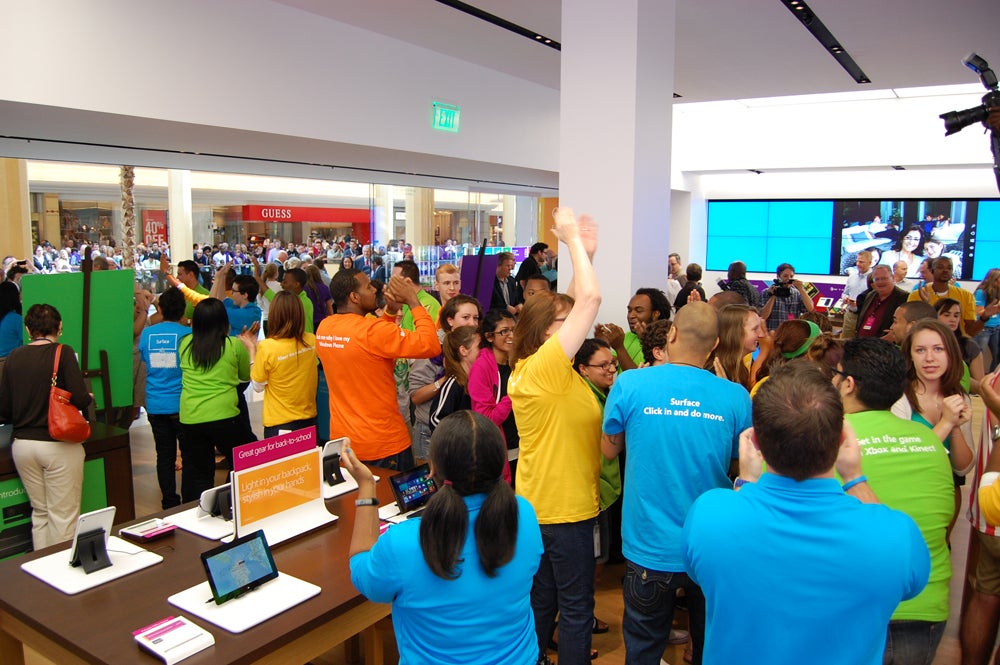 Image Credit: Louis Bedigian © Benzinga
Microsoft operates several other locations throughout New York, including stores in Garden City, Buffalo and White Plains. A new store will open in Syracuse on November 13.
Company executives told The Wall Street Journal that Microsoft has been working on its Fifth Avenue store for five years.
Related Link: Will Microsoft Corporation's Windows 10 Outsell Windows 8, OS X?
Big Launches
In 2013, Microsoft promoted a few of its store openings with prizes and live music. Macklemore and Ryan Lewis teamed up with Neon Trees to open the company's first store in Honolulu, Hawaii. Weezer performed at the Portland, Orgeon store opening. Canadian customers also got to enjoy a free Weezer performance when Microsoft opened a store in Mississauga, Ontario earlier this year.
Both Kelly Clarkson and former Microsoft CEO Steve Ballmer came to the Microsoft Store opening in Troy, Michigan.
"This is the 42nd store that Microsoft is opening," Ballmer told attendees at the store opening in June 2013. "We have had about 250 million visitors, but it's only the second store that I've been involved in opening. The first store was in my new hometown of Bellevue, Washington, and the second is my original hometown of Detroit."
Image Credit: Louis Bedigian © Benzinga
Which Customers Matter Most?
With so many Microsoft Stores already open and many more on the way, Moorhead wonders if the company should shift its focus to serve business customers.
"I think a big question is, going forward, do they start doing more business services as opposed to consumer?" he questioned. "I think that would be a pretty big deal. In the end, they're really focused on business, not on the consumer. You have a lot of small businesses who buy like consumers do at retail."
Golden, on the other hand, prefers Microsoft's other strategies. He doesn't think the company should waste time focusing on retail.
"They've never been able to -- except for the Xbox -- be successful in the retail space," said Golden. "I just think they're trying to compete with Apple and they have not yet shown that they can successfully go after the retail user. They're coming from behind and they're not creating their own strategy. They're chasing Apple and you're never gonna win that way. They don't have their own brand identity."
Disclosure: At the time of this writing, Louis Bedigian had no position in the equities mentioned in this report.
View Comments and Join the Discussion!
Posted-In: Brett Golden comments Microsoft Microsoft Store Patrick MoorheadTop Stories Tech Media Best of Benzinga