Carmelo Anthony Launches Investment Firm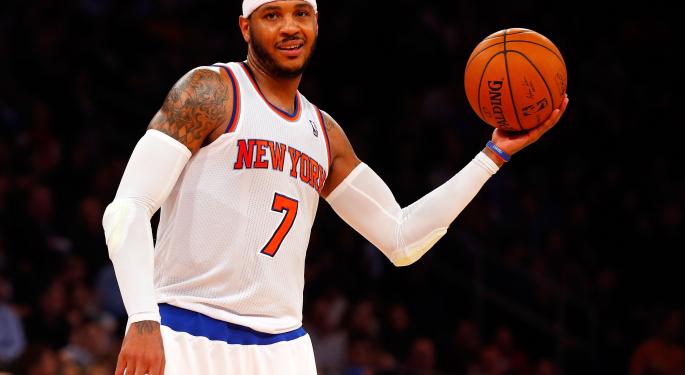 Carmelo Anthony appears as interested in wearable technology and connected services as he is in winning an NBA championship.
Anthony and former NBC executive Stuart Goldfarb's new invest firm, M7 Tech Partners, was launched on Monday. The firm's first investment is in the children's media company, Hullabalu. The company develops interactive storytelling apps for mobile devices.
"From the outside looking in, it appears that not only is Carmelo Anthony putting his money in an area that he enjoys, but has also surrounded himself with industry veterans," Darren Heitner, founder of Heitner Legal, told Benzinga. "There is no reason to discourage him or chastise him for going down such a path."
An Interest In Technology And Sensors
"For as long as I can remember, I've been interested in technology," Anthony said in a statement. "We are actively looking for ventures with strong leaders creating breakthrough products that resonate with consumers."
Related Link: LeBron James' Off-Court Deal With Beats Reportedly Nets Him Over $30 Million
Anthony has also reportedly become interested in the sensors some of his peers had been wearing to track their performance.
For his part Goldfarb, as reported by The Wall Street Journal, said the fund will invest in seed-stage deals, typically on a convertible note basis, and will occasionally be "more operationally involved" with helping entrepreneurs develop their brands, products and business models.
A Wise Investment?
Anthony signed a five-year, $124 million deal with the New York Knicks last week. Born in Brooklyn, Anthony won an NCAA Championship with Syracuse. He has played for the Knicks since he was traded midseason from Denver during the 2010-2011 season.
"I always applaud an athlete when he or she is passionate about something and invests wisely," said Heitner, who notes professional athletes and their investments don't always work out. Anthony has made at least $113 million in on-court earnings during his 11 years in the league.
The sports attorney said Anthony's investment will be able to be properly judged in the future.
"No matter what, the art of investing is not for the risk averse, and it is important for Carmelo to conduct proper due diligence before splurging on a potential opportunity. That said, he has the chance to take his current fortune and turn it into a lot more," Heitner concluded. "Good for him."
Posted-In: Carmelo Anthony comments Darren HeitnerWall Street Journal Be Your Own Boss Tech Media Interview Best of Benzinga
View Comments and Join the Discussion!