Adidas Gaining The Edge, As Nike Leaves Manchester United Behind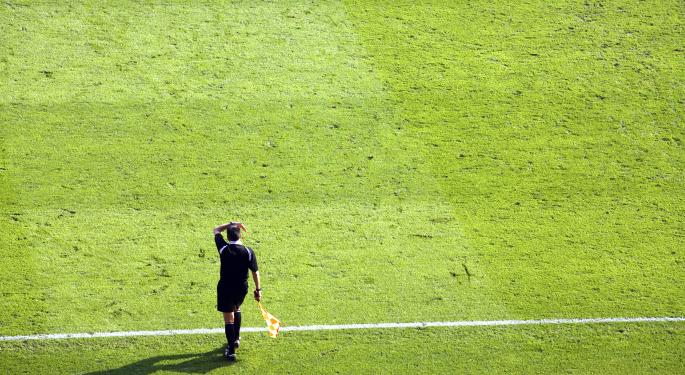 Brazil isn't the only big name getting kicked around in the soccer world.
On Tuesday, Nike (NYSE: NKE) said it will no longer sponsor kits (soccer uniforms) for Manchester United (NYSE: MANU), effective after the 2014-2015 season. Nike has been a sponsor of the English Premier League team since 2002.
"Any partnership with a club or federation has to be mutually beneficial, and the terms that were on offer for a renewed contract did not represent good value for Nike's shareholders," Nike said.
Playing To Their Core Clientele
And that's a statement sports and entertainment attorney Darren Heitner can agree with.
"Nike has made a sincere effort to expand its presence in the soccer world and has largely accomplished a goal of becoming the brand of choice alongside Adidas," Heitner told Benzinga. "That said, Nike's core clientele is outside of soccer. Based on the sheer amount of dollars it would have taken to maintain a tie to Man U, it makes sense that Nike turned away for the time being."
Related Link: Twitter And The World Cup: The Digital Match Made In Heaven
The New York Times pointed out that the 2002 contract was worth about $519 million at the current exchange rate.
Nike shares opened sharply lower on Thursday. Man U, which became a publicly traded entity in 2012, is down about 2.5 percent since Tuesday.
The Wall Street Journal reported that lead Nike competitor, Adidas (OTC: ADDYY), offered at least $103 million per year to sponsor the team.
Big day for adidas today: In line for $100M+/year Manchester United kit deal, Germany into WC final, sign Wiggins.

— darren rovell (@darrenrovell) July 9, 2014
Adidas currently sponsors Real Madrid, a club that along with Man U is arguably one of the two most popular soccer teams in the world. They are also two of the most valuable teams, combining for a total value of about $6.2 billion.
For Adidas, who manufactured Man U jerseys in the 1980s and 1990s, a sponsorship of the team would help further solidify the company's standing as a leader in the sport apparel space.
"Adidas has proven throughout the World Cup that it is willing and able to dedicate the necessary resources to remain a juggernaut in the soccer space," said Heitner.
"Committing to Man U, despite the major cost, really makes the brand put its money where its mouth is," he continued. "Having Real Madrid and Man U in addition to sponsoring Germany and Argentina in the World Cup is a major win for Adidas."
Germany and Argentina will face each other in the 2014 World Cup final on July 13.
Last month, Adidas CEO Herbert Haine said the company would earn two billions euros ($2.44 billion) in soccer sales for 2014. Reuters noted Adidas has been losing market share in western Europe to Nike.
And last November, a soccer publication pointed out how the apparel companies "will go to any lengths, to secure an extra edge over their rivals." The article also noted how major sponsors clamor over a sport's individual stars, i.e., Lionel Messi and Cristiano Ronaldo.
Root For The Team, Or The Player?
But what's the more important brand: person or team?
"It is tough to prioritize one over the other," said Heitner, who noted fans commonly associate more with teams than players.
"Brands want to be affiliated with the best in class. Teams provide different benefits than players. Typically teams create more eyeball exposure, while players can tell more of a story, enhance influence through appearances, and be a real voice of the brand. The real win for any brand is to maintain a relationship with a standout player on a team that it also sponsors.
Posted-In: Adidas comments Darren Heitner Manchester United NikeEconomics Media Interview Best of Benzinga
View Comments and Join the Discussion!