Cramer Is Impressed With Walmart's Ability To Fight Amazon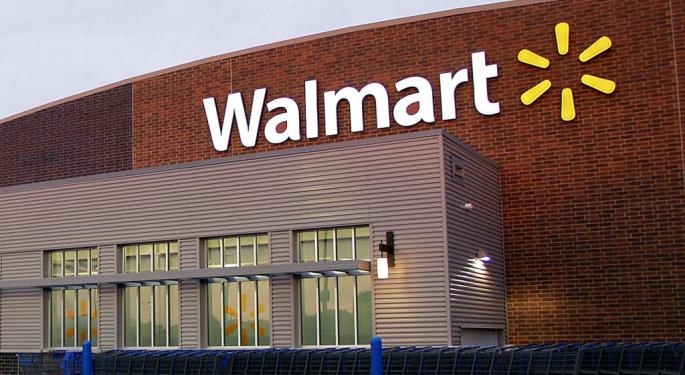 Wal-Mart Stores Inc (NYSE: WMT)'s game plan to take on its biggest rival Amazon.com, Inc. (NASDAQ: AMZN) is resulting in Walmart's stock showing strong gains as of late, Jim Cramer argued during his daily "Mad Money" show on Wednesday.
'Not The Walmart We're Used To'
Walmart's ability to keep pace with Amazon's growth is an accomplishment that should be considered "theoretically impossible," Cramer said. For instance, Walmart is boosting its investments in its eCommerce platform, especially Jet.com. Meanwhile, management announced a $20 billion increase to its stock buyback program and is paying employees higher salaries. The net result? Walmart is not only giving customers a better shopping experience but showing investors improved earnings.
"This is not the Walmart we're used to," Cramer said.
While many investors are quick to point out that Amazon's business also consists of a fast growing cloud entity, AWS, the fact is Walmart holds a key advantage of its own: 5,000 store locations. In fact, by outnumbering Amazon's 400 Whole Foods locations by a margin of 12.5 to one, Walmart "can do plenty of damage" to Amazon's retail business which on a dollar amount is much larger than the AWS unit.
Stock Impact
If Walmart is keeping pace with Amazon then it may be time for investors and analysts to re-rate Walmart's stock higher. Amazon's stock is trading at 234 times earnings but Walmart's stock is trading at only 19 times earnings.
"There's a world of portfolio managers looking for another potentially dominant retailer with a cheap stock and a great balance sheet," Cramer concluded. "Which is why I think the stock of Walmart, even after this miraculous run, is not finished going higher."
Related Links:
Walmart Is 'Testing Anything And Everything' To Win The Retail Battle, Analyst Says
Walmart Comfortable With Outlook, Underlines E-Commerce Focus
Image Credit: Walmart Corporate from Bentonville, USA (Walmart store exterior) [CC BY 2.0], via Wikimedia Commons
Posted-In: AWS ecommerce Mad Money retail retailers Whole Foods Jim CramerMedia Best of Benzinga
View Comments and Join the Discussion!