Walmart Comfortable With Outlook, Underlines E-Commerce Focus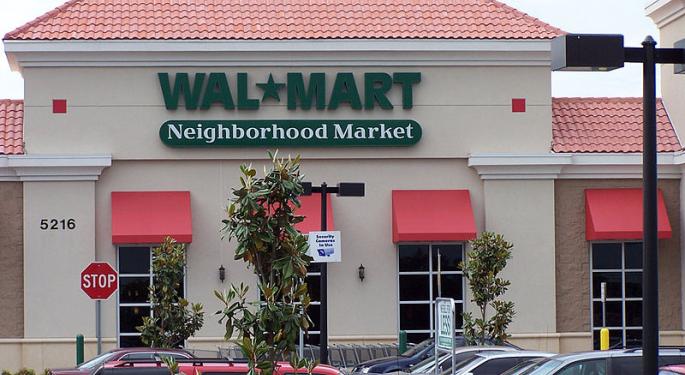 Wal-Mart Stores Inc (NYSE: WMT) shares are rallying pre-market trading in reaction to a press release from the company earlier Tuesday, where it detailed its forward guidance, buyback plans among other metrics.
The release came ahead of the retail giant's annual meeting for the investor community scheduled for later Tuesday.
In pre-market trading, shares of Walmart were up 1.79 percent at $81.97.
Among the highlights of the release were the following.
Financial Guidance Roughly In Line
The company reiterated its fiscal year 2018 GAAP earnings per share guidance of $4.18 to $4.28 and non-GAAP earnings per share guidance of $4.30–$4.40. This compares to the consensus estimate for $4.38 per share in adjusted earnings.
For fiscal year 2019, the company's prognostication is for year-over-year adjusted earnings per share growth of 5 percent, translating to adjusted earnings per share of $4.52–$4.62. Analysts, on average, estimate earnings of $4.62 per share for the year.
Emphasis On E-Commerce
The company sees fiscal year 2019 sales increasing at or above 3 percent, driven by comps and e-commerce growth at constant currency rates. The share of e-commerce in Walmart U.S. sales is expected to be 40 percent in 2019, with the company focusing on store remodels and digital experiences over new stores.
See also: Wal-Mart CEO Issues 3 Predictions For The Future Of Retail
Further, the company said it would add 1,000 online grocery locations in Walmart U.S.
For both fiscal year 2018 and 2019, the company hopes to earmark capital expenditure of $11 billion each.
Growing Internationally
Globally, the company expects unit growth of 280, including new, expanded and relocated units in both 2018 and 2019, with 255 of these in international markets, especially in key markets such as Mexico and China.
In the U.S., the company said it would open less than 15 Supercenters and fewer than 10 Neighborhood Markets in 2019.
The bumper announcement was pertaining a $20 billion stock buyback plan, which is to be implemented over a two-year period.
"We're proud of the progress we're making," Walmart CEO Doug McMillon said. "We're equipping our associates with training and technology so they will continue to innovate in our stores, clubs and through eCommerce to find ways to deliver an enjoyable shopping experience for our customers that is easy, fast, friendly and fun."
Walmart said at its annual investor meet, it intends to discuss progress against its strategic initiatives to leverage its unique assets in a bid to win customers and shareholders, which it hopes to achieve through innovation, greater convenience and speed.
Related Link: Drones, Distribution And The State Of Shipping
__________
Image Credit: 020808 at the English language Wikipedia [GFDL (http://www.gnu.org/copyleft/fdl.html) or CC-BY-SA-3.0 (http://creativecommons.org/licenses/by-sa/3.0/)], via Wikimedia Commons
View Comments and Join the Discussion!
Posted-In: Doug McMillonNews Guidance Buybacks Best of Benzinga