Amazon Or Alibaba: Which Would You Rather?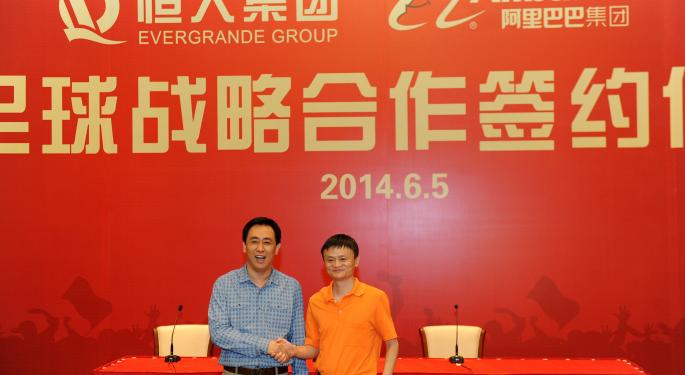 E-commerce has become one of the most profitable industries this side of the dot-com boom of the late 1990s.
For years, industry titans like Amazon (NASDAQ: AMZN) and eBay (NASDAQ: EBAY) have jockeyed for position as the online leader in internet retail sales. These companies have enjoyed the privilege of having little to no competition in the marketplace -- until now.
Chinese e-commerce company Alibaba recently took to the World Wide Web and has been making a virtual killing in the consumer shopping market. The company recently filed its initial public offering and disclosed its prospectus in early May of this year with the SEC.
Alibaba declared profits of $2.8 billion for a nine-month period that ended on December 31, 2013. That was on revenue of just under $7 billion, which translates to $0.43 on every dollar in revenue generated.
Related: No Legwork Wednesday – Nintendo's Wii U
Why is this significant?
Primarily because Amazon, by comparison, reported a profit of only $274 million on revenue of nearly $75 billion for the entire 2013 fiscal year. That translates to less than $0.01 of profit per dollar of revenue.
So what accounts for this massive discrepancy between a veteran e-commerce company and the new kid on the block?
To put the answer in the simplest possible terms, it is the business mode.
Amazon has a now-legendary strategy of pumping its profits back into the business and putting tremendous pressure on its hyper-thin margins. This has made investors unhappy, since doing so has caused shares to drop over 18 percent so far in 2014.
While the investment world waits for Alibaba's IPO to hit the U.S. stock exchange as an alternative to Amazon and eBay stocks, there is a very real possibility that there will be a new leader in the online commerce race. The respective strategies for both companies include invading the other's home base, so to speak. Amazon has long been working to boost its sales numbers in China and Alibaba is moving in on U.S. consumers with laser-focused abandon.
So what exactly does the Alibaba business model look like?
The company has three primary web domains – Juhuasuan, Taobao and Tmall – which are essentially virtual bridges between buyers and sellers. It is probably what an e-commerce site would look like if Google were to merge with Amazon or eBay.
Alibaba profits off of the merchant sales and advertising fees and allows those merchants to achieve a higher position on its search engine. The company doesn't sell directly to consumers since it claims that doing so would cause unnecessary competition with the very merchants that it wants selling their products on its sites. The Alibaba model instead feeds profitability and strengthens cash flow, allowing for the flexibility to be able to improve its overall strategy as it expands its business.
So looking ahead, which is the better stock investment – Alibaba or Amazon? It may technically be too early to know definitively, but based on Alibaba's numbers so far, putting money into the Chinese company may prove to be a smart move once it hits the U.S. stock exchange.
Posted-In: Alibaba e-commerce Jim CramerMarkets Tech Trading Ideas Best of Benzinga
View Comments and Join the Discussion!