John Flannery Gives The Inside Story Of GE's Dividend Cut And More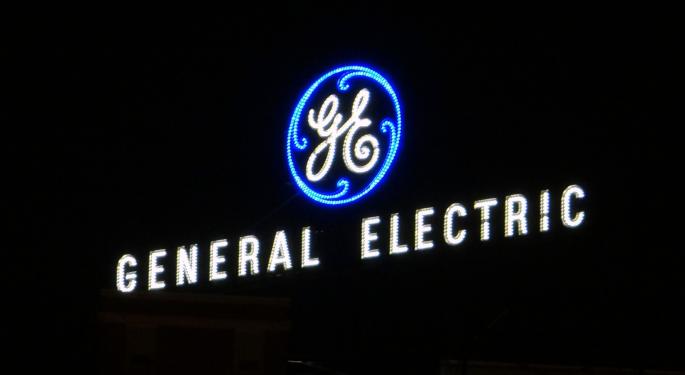 General Electric Company (NYSE: GE) disappointed investors Monday with its investor day presentation that included a 50-percent reduction to the dividend, concerning guidance and a strategy which may imply 2018 will be a "really, really difficult" year.
Dividend Cut
GE's executive team and board members undertook a complete "analytical exercise" to determine if the stock's 96-cent per share dividend is still appropriate in GE's new era, GE Chairman and CEO John Flannery said during a CNBC interview Tuesday. The company found that its dividend rate is no longer appropriate after selling GE Capital and realizing its industrial business didn't grow as fast as previously expected.
"We came to a determination collectively.. very solidly.. that it was too high of a dividend to sustain going forward and it was in the best interest of shareholders and the company to reduce that to a level that is in-line with our peers in terms of payout ratio," Flannery said.
Worst Day Ever?
GE's prior CEO Jeff Immelt described his decision to slash the dividend during the financial crisis as being his "worst day ever" but Flannery won't go as far. Nevertheless, the dividend reduction is a "very tough measure" but needed to be done.
Looking forward, there is a path towards raising the dividend rate in the future but the more immediate priorities include improving the results of the company, improve the cash flow, become "incredibly disciplined" on how investments are made to grow earnings.
Related Link: Some Dividend ETFs Could Give GE The Boot
Transparency
One of the biggest issues GE needs to address is its transparency. When the stock was trading near $30 per share in February, many investors felt that a 2017 EPS outlook of $1.60 was "reasonable," CNBC's Jim Cramer said. At the same time investors believed the company's power unit was "very strong" and the company's sheer earnings power makes it reasonable to assume $30 billion would be returned to investors.
But how is it that many investors, experts, and analysts were wrong in their thinking at the time, especially since the company guided its EPS to just $1.05 to $1.10?
First, 15 to 20 cents of the low EPS outlook is attributed to the "unforeseen" decline in oil and energy prices, Flannery told Cramer. Another 20 to 25 cents of EPS can be attributed to changes in restructuring as the company is moving at a rapid pace to bring in the necessary changes.
"The bulk of this is a power, oil and gas issue, a weakened market, and some other things we have taken since then," he said. "We have not managed the power business as well as we should have, that is totally on us."
Cramer: 'I've Been Had'
Back in February, Cramer hosted Immelt on his daily "Mad Money" show and felt that he has "been had" -- an assertion Flannery takes offense with.
"I think that the notion we weren't had with the stock at $30 and [now] at $17 kind of says what I've most feared," Cramer told Flannery. "It's okay. I would have preferred you to say, 'Jim, you know what, we didn't get the straight story, and the straight story is bad.'"
The executive responded and said he has been "completely transparent" since day one and this is what is expected of a leader.
"We have been quite clear in where we have under performed and how we fix that," Flannery said. "So going back to the past is not productive for me. I'm focused on going forward."
Related Link: General Electric's Technical Picture: Little Reason For Near-Term Optimism?
Image Credit: Momoneymoproblemz (Own work) [CC BY-SA 3.0], via Wikimedia Commons
View Comments and Join the Discussion!
Posted-In: CNBC GE Capital Jeff Immelt John FlanneryDividends Top Stories Media Trading Ideas Best of Benzinga