Jim Cramer Hates ETFs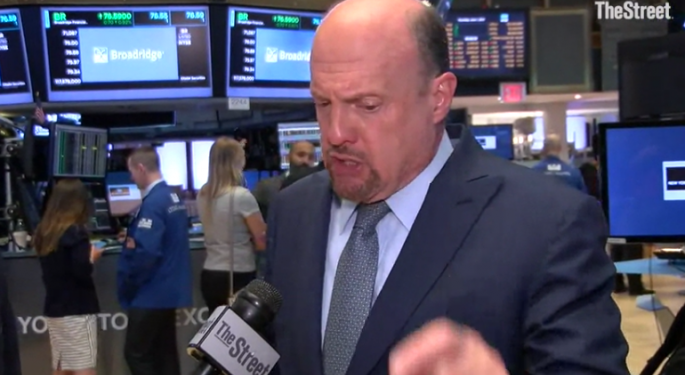 Exchange-traded funds are a great tool for investors because they offer exposure to many different companies under one stock symbol. But count CNBC's Jim Cramer among the many people who hate ETFs.
If there is one particular event that brought ETFs into the spotlight it is the bankruptcy of Enron, Cramer explained during a recent "Mad Money" show. An ETF that offered exposure to multiple companies that offer a similar service to Enron would have saved some investors from riding Enron's stock at its peak of $90.75 all the way down to 67 cents.
But Cramer isn't buying this argument as Enron is an extreme outlier. The company defrauded investors because it was a corrupt company run by corrupt executives.
"I don't have a solution for that kind of individual stock risk and an ETF doesn't do it," Cramer said. "But the concept took root and more and more investors wanted to have sector exposure."
Instead of investing in an entire sector, investors will likely be better off investing in the best name the sector has to offer, Cramer continued. Who wants to invest in a basket of stocks which includes both the best names but also mediocre stocks as well?
The other side of the debate would argue that individuals who don't know how to select a sector's best stock are better off investing in the index as a whole to at least gain some form of exposure.
"If you think you can't pick the best of these stocks, then I would suggest that you might not know enough about the sector, to begin with, so don't think you can outsmart it by picking an ETF," Cramer said.
At the end of the day, Cramer "rebels" against the concept of ETFs, because it creates a scenario that causes "enormous distortions that can obliterate even the best of stocks."
But there is one exception to this rule, the ETF which tracks the price of gold, SPDR Gold Trust (ETF) (NYSE: GLD). This ETF is very accurate at tracking the price of gold "as close as possible" and the only alternative would be hoarding bars of gold in their backyard which is also more expensive than the ETF.
Related Links:
Copper Surge Lifts A Familiar ETF
A Leveraged ETF To Consider In August _____
Image Credit: TheStreet [CC BY 3.0 (http://creativecommons.org/licenses/by/3.0)], via Wikimedia Commons
View Comments and Join the Discussion!
Posted-In: CNBC Enron Gold Gold ETF Jim CramerMedia ETFs Best of Benzinga