The One Factor That Could Slow Down E-Commerce Growth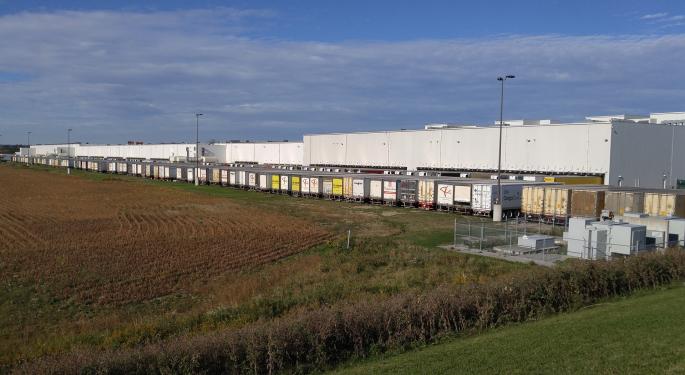 There is little doubt that e-commerce continues to gain traction and is becoming a preferred method of shopping for more consumers. But there is one problem few investors are discussing, a CNBC report noted: the surging cost of warehouse and distribution centers.
Industrial real-estate rates close to U.S. ports in New York, New Jersey, and Los Angeles, were higher by at least 10 percent on a year-over-year basis, CNBC stated while citing data from the shipping and logistics news site JOC. In fact, new companies looking to establish warehouses in these areas and are willing to pay high rates may be out of luck.
"There's simply little to no industrial product available," CNBC quoted the commercial real estate firm Jones Lang LaSalle as saying in a report. "The market is on fire today for industrial property owners."
Nationwide Trend
Meanwhile, the scarcity of space extends beyond the three regions. Nationwide, the industrial vacancy rate stands at just 5.3 percent and industrial rents are up 8.2 percent in 2017 after gaining 8.7 percent last year.
The national vacancy rates for shippers in the first quarter of 2017 also hovered at a 17-year low while at the same time average rental rates rose 10 percent in many coastal markets.
Of course, the surge in demand is coming from companies looking to sell their products online, the Jones Lang LaSalle report also stated. The firm believes e-commerce accounts for around 40 percent of the leasing of industrial properties to date.
Related Link:
Amazon At $1,000 Is 'Just A Nice Trophy'
10 Retailers Poised To Perform In The Digital Retail Revolution
Posted-In: CNBC ecommerce Online Commerce shipping WarehousesTech Media Best of Benzinga
View Comments and Join the Discussion!