Apple Is The World's Biggest Dividend Payer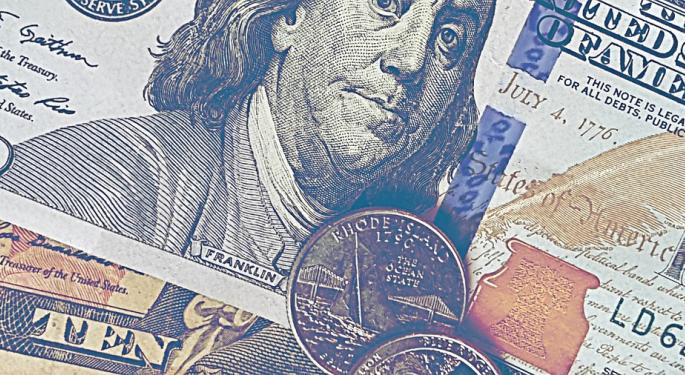 No other company in the world pays more to investors in dividends than Apple Inc. (NASDAQ: AAPL).
Apple boosted its dividend payout by 10.5 percent on Tuesday and will now return $13.22 billion annually and took over the top spot from Exxon Mobil Corporation (NYSE: XOM), which paid investors $12.77 billion annually.
A CNBC report noted Apple's "giant" increase in dividends is a "luxury" that should in part make up for a decline in iPhone sales seen in the quarter. In fact, Apple's payout alone is more valuable than the entire valuation of notable companies.
CNBC also pointed out that Apple's dividend hike marks an increase from last year's 9.6 percent boost, but does fall short of 2013's raise of 15 percent. Nevertheless, Tuesday's report marks the fifth annual dividend hike and is also accompanied with a whopping share buyback program that will total $210 billion through March 2019.
Not The Biggest Yield
In terms of dollar amount, Apple is the biggest dividend payer but its 1.72 percent yield actually makes it the lowest among the top 10 biggest payers by dollar amount.
Here is a look at the top 10 dividend payers by dollar amount and their respective dividend yield.
1. Apple: $13.221 billion (1.72 percent).
2. Exxon: $12.771 billion (3.75 percent).
3. Microsoft Corporation (NASDAQ: MSFT): $12.055 billion (2.25 percent).
4. AT&T Inc. (NYSE: T): $12.037 billion (5.01 percent).
5. Verizon Communications Inc. (NYSE: VZ): $9.416 billion (5.03 percent).
6. Johnson & Johnson (NYSE: JNJ): $9.117 billion (2.72 percent).
7. General Electric Company (NYSE: GE): $8.376 billion (3.32 percent).
8. Chevron Corporation (NYSE: CVX): $8.178 billion (4.08 percent).
9. Pfizer Inc. (NYSE: PFE): $7.618 billion (3.79 percent).
10. JPMorgan Chase & Co. (NYSE: JPM): $7.144 billion (2.3 percent).
See Also:
Gene Munster Talks Apple Growth: 'It's Still All About The iPhone 10'
View Comments and Join the Discussion!
Posted-In: Apple Dividends CNBC dividend yieldsNews Dividends Dividends Media Trading Ideas Best of Benzinga