Panera's CEO Discusses Company's Decision To Label Calories In Soft Drinks, Says It Isn't 'The Food Police'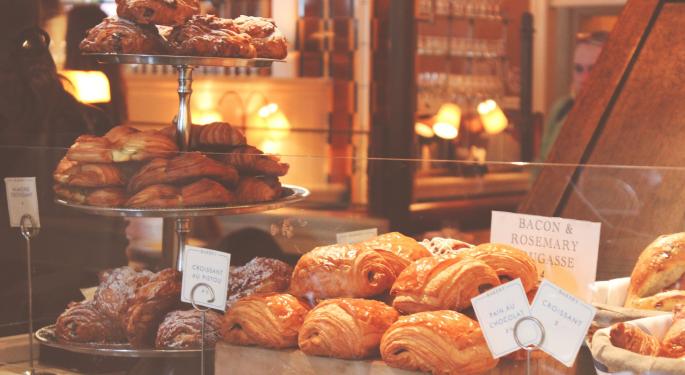 Panera Bread Co (NASDAQ: PNRA) took a bold step Friday when it announced that it will begin labeling the sugar and calories in its soda and soft drinks. Speaking as a guest on CNBC's "Squawk on the Street," Panera's CEO Ronald Shaich explained the reasoning behind the decision, which also happens to be the industry's first.
Shaich explained that the latest move is consistent with the company's 20-year record of doing whatever is necessary to serve its guests a superior offering. Fifteen years ago, the company removed all antibiotics in its products and over the years it has also removed non-naturally occurring trans fats. More recently, the company came out with a list of 150 food items that won't be included on its menu, such as artificial colors, sweeteners and preservatives.
"It's now time for the next step," the executive emphasized. "And that next step for us is to really address beverages."
Panera Doesn't Want To Be The 'Food Police'
Shaich continued that one of the biggest health issues today as the sheer amount of sugar and calories in soft drinks. The way to tackle this problem is two-fold: 1) provide "real" options such as Panera's line of low-sugar fruit beverages and 2) provide people with actual data on how much sugar is in their cup of soda.
Shaich was then asked if Panera's soda provider, PepsiCo, Inc. (NYSE: PEP), was consulted prior to the announcement. He answered that he has spoken with Pepsi and that "they themselves are coming from the same place."
With all that said, Shaich acknowledged that he still drinks a cup of soda "on occasion," as there is no reason why it can't be a special treat item. Also, he reaffirmed that Panera's position is not to sell fewer soda beverages, rather to just give customers more decisions.
"We aren't the food police and it isn't our job to say you shouldn't do this or that," he said. "What we really want to have is real options and real transparency and leave it up to you to make the decision."
Related Links:
Analysis Shows Chipotle's Biggest Threat Is Now Panera
National Beverage Could Be A Major Beneficiary Of The Sugar Tax
View Comments and Join the Discussion!
Posted-In: carbonated beverages CNBC Coke Ronald ShaichTopics Restaurants Media General Best of Benzinga