Jim Cramer: Target's Executives Are Likely Wondering What The Heck Is Going On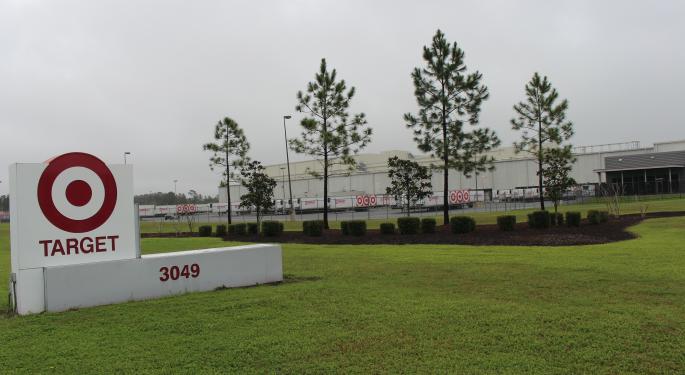 Target Corporation (NYSE: TGT)'s stock plummeted around 15 percent early Tuesday morning but have since rebounded a few percentage points.
The heavy selling activity following the retailer's troubling fourth-quarter earnings report and poor outlook which has come to a shock to many investors — and even Target's management itself. According to CNBC's Jim Cramer, Target's management doesn't fully comprehend the magnitude of the shift among customers.
"It's almost as if week to week if you were at Target you would be saying 'no... it can't be'... 'it can't be'... 'how could it be?'" Cramer said.
Cramer highlighted the fact that Target's digital business notched a 34 percent increase in comparable sales but this likely cannibalized sales from brick and mortar stores which saw a 1.5 percent decline in comparable sales.
Cramer also pointed out that Target's electronics and food sales are both not only very weak there is no game plan moving forward. The CNBC host went on to quote his late mother who always said, "Sometimes you can't figure it out... because it can't be figured."
See Also: Target's Conservative Near-Term Guidance Is Necessary For Long-Term Sustainability
Target Can Learn From Best Buy
Needless to say, Target, along with nearly every retailer, is shedding market share to the online giant Amazon.com, Inc. (NASDAQ: AMZN). However, Best Buy Co Inc (NYSE: BBY) has done a great job at defending itself against Amazon and Target can learn a thing or two from the electronics retailer.
Cramer recalled an experience where he visited a Best Buy store to buy a product and the customer service was phenomenal. An associate was very knowledgeable about all the different products and that is where a company can win against Amazon.
Cramer suggested that the same superior shopping experience can't be found in Target's electronics and food department while the rest of the store doesn't provide consumers with any sort of value added experiences versus Amazon.
Bottom line, Target had several strategies to grow including small store formats and placing locations near colleges but Amazon's game plan was more simple: "Destroy Target."
At last check, shares of Target were down 12.25 percent at $58.73.
Image Credit: By Michael Rivera - Own work, CC BY-SA 4.0, via Wikimedia Commons
Posted-In: CNBC CNBC Jim CramerEarnings News Guidance Movers Media Best of Benzinga
View Comments and Join the Discussion!