Genie In A Bottle: Robin Williams' Will Prevents Use Of Outtakes For 'Aladdin' Sequel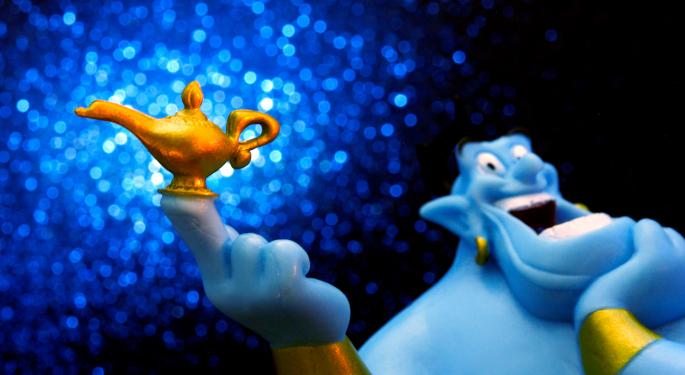 A former Walt Disney Co (NYSE: DIS) executive said that Robin Williams provided enough lines that ended up being cut from the 1992 film "Aladdin" to use in a fourth installment of the franchise.
Disney planned to use these outtakes and voice recordings in a new "Aladdin" film.
However, Williams' will prevents Disney from using his name and voice records for 25 years after his death.
When Robin Williams voiced the genie in the original 1992 "Aladdin" film, the comedian may have left behind enough lines and outtakes to make a fourth installment of the "Aladdin" franchise, according to New York Post.
Disney's ambitions to expand its "Aladdin" franchise has perhaps fallen under the radar given the tremendous hype over its Star Wars and Marvel franchises. According to The Hollywood Reporter, Disney is developing "Genies," a live-action comedy that focuses on the realm of the Genies and how Aladdin's Genie ended up enslaved in the lamp.
Related Link: How 5 Companies Paid Tribute To Robin Williams
Unfortunately, Disney had to scrap its plans to include Williams' outtakes in any future film. The actor's will specifically prevents the use of his name, taped performances, or voice recordings for 25 years after this death.
Williams' tragic death in 2014 was a shock to the Hollywood community and film-lovers who will remember the actor's unique improvisational skills and jokes.
New York Post noted that Williams' will protects his widow, Susan, and children from incurring estate penalties due to any posthumous earnings. "Absolutely Anything" was Williams' final film and he provided the voice of Simon Pegg's character's dog.
His widow said last week that Williams was suffering from Lewy body dementia, a rare brain disorder which has been misdiagnosed Parkinson's prior to his death.
Image Credit: JD Hancock, Flickr
Posted-In: Aladdin CNBC disney Robin WilliamsNews Tech Media Best of Benzinga
View Comments and Join the Discussion!