Mario Gabelli Betting Big On This Water Industry Stock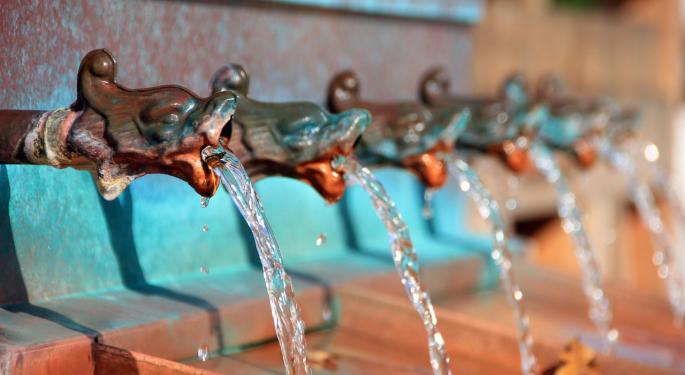 Mario Gabelli, founder and CEO of GAMCO Investors Inc. and arguably one of the best value investors on the Street, is bullish on a new company from an area that few investors have on their radar – water.
Gabelli was on CNBC Tuesday to explain why he is bullish on companies related to water and to provide his top-pick from the sector: Xylem Inc (NYSE: XYL).
Water: The Focus
"It's water and it's not new, but it's an area that we have identified and we have a core competency and for the last probably 10 or 12 years," Gabelli began. "Not because I saw that – remember that 'Water World' or 'Water, Water Everywhere' movie— a story – but essentially, we consume 90 percent or 80 percent of our water for agriculture, 10 percent for industrials and the rest of it we consume. But we are sensitive about it because we are running out of it."
Related Link: P&G Reminds Customers To Play It Safe Around Water This Summer
Big Tailwind For Demand
Gabelli revealed his top pick in the sector, Xylem, saying, "It was a spinoff from ITT. ITT over the last, since I started following and with Geneen (Harold Geneen, former CEO OF ITT) in the '60s, they have a culture of spinning of companies consistently and constantly.
"Xylem has a new CEO in last say year and a half, Pat Decker and the CFO [Michael Speetzen] left yesterday to go to Polaris Industries and the company will do a $1.80. There is about a 180 million shares. Stock, XYL is the symbol, somewhere around $36-37. And, I think, over the next three years this company has a big tailwind of demand," Gabelli concluded.
Image Credit: Public Domain
View Comments and Join the Discussion!
Posted-In: CNBC Gamco Investors Inc. ITT Corp Mario Gabelli Pat Decker Polaris IndustriesMedia